The world is waking to honor human capital in the workplace. Organizations are explicitly speaking about DEI goals and tangible implementations. It comes as no surprise that embedding DEI was included as one of the six imperatives for HR4.0 in the recently closed weforum discussions. Coincidingly, Glider AI has been one of the prominent talent intelligence companies that have incorporated DEI hiring strategies since its inception.
DEI or Diversity, Equity, and Inclusion are not contemporary terminologies. The world has witnessed many outrages, events, and voices that have called for DEI rights, LGBTQ+ issues, and gender discrimination now and then. The brutal killing of George Floyd and the Black Lives Matter movement sparked many discussions about the shrunken respect and honor for all minds of humans on this planet.
In this regard, it makes sense to look at some of the astounding statistics about workplace DEI:
Glider and DEI Hiring
In a recent conversation with SIA, Glider CEO Satish Kumar spoke vividly about Glider AI's mission of talent quality with DEI. He discussed how the AI tools in his organization focus on candidate's fit based on their abilities to do the job, but never on privileges. Though Glider is a growing organization, it is made sure that the foundations for DEI are imbibed strongly.
Also, in his words, DEI was defined like this:
Diversity: Being invited to a tournament
Equity: Being offered a ride to the game
Inclusion: Being asked to play
According to him, diversity without inclusion is useless. Therefore, lending a helping hand to underprivileged players in the tournament is what an equitable organization looks like.
True to its pledge of 'Quality First', Glider's AI tools support diversity hiring like never before. The hiring tools are well-known for democratizing the hiring practices and remove bias from the evaluation process This exactly brings us to the topic of discussion in our blog.
Glider's Support for Diversity Hiring
Many CRM surveys reveal that few candidate screening criteria like prior company information, education, and others decrease diversity in the candidate pipeline. Additionally, candidate personal information like gender and ethnicity triggers unconscious bias in the hiring process.
On the contrary, Glider's D&I support tools take extreme measures to nullify biases and discriminations. Before we jump into the blog's theme, let's understand why Glider's hiring tools are a must for every recruiter who needs DEI workforce:
Proven improvement in diversity metrics
Enriched diversity in screened candidates
Access to blind hiring
Higher quality hires
Greater diversity in selected candidates
Bias free hiring
1.Increase Diversity among Screened Candidates
Glider's D&I support tools can be used to hide everything related to a candidate's personal information apart from his/her skills sets and attributes. This makes sure that hiding such personal details would reduce subconscious bias to a great extent and doors for the right talent are opened.
The first feature is the D&I toggle on the assessment screen. Turning on this toggle hides a candidate's personal information. This setting is editable by the Glider admin/author/account admin. Only they are permitted to look at the candidate's details.
2.Weed out Subconscious Bias
True to its function, Glider's D&I support tools help admins create a standardized and unbiased hiring structure. It ensures that all the candidates are made to go through the same hiring process and evaluation metrics, irrespective of their background.
3.Auto Shortlist Top Percentile Candidates
Glider's assessment tools like phone screen, video interviews, coding simulation, proctored assessments and others auto shortlist candidates to further rounds (based on test scores and assessment performance) without human intervention. This is applicable across all domains, irrespective of tech or non-tech industries. Glider upholds relevant skill sets and skill performance that are necessary for job performance.
4.Review Candidates Work without knowing any Candidate Identifiers
Another striking feature of Glider's support tools is blocking out the candidate's personal identifiers like image, age, gender, ethnicity, etc. Such block-outs guarantee that candidate is assessed only on their performances in different online assessment tests.
As mentioned earlier, candidate details that can be anonymized are
Name
Email
Video response
Video monitoring
Screen captures
Resume tab and
Any details in the candidate overlay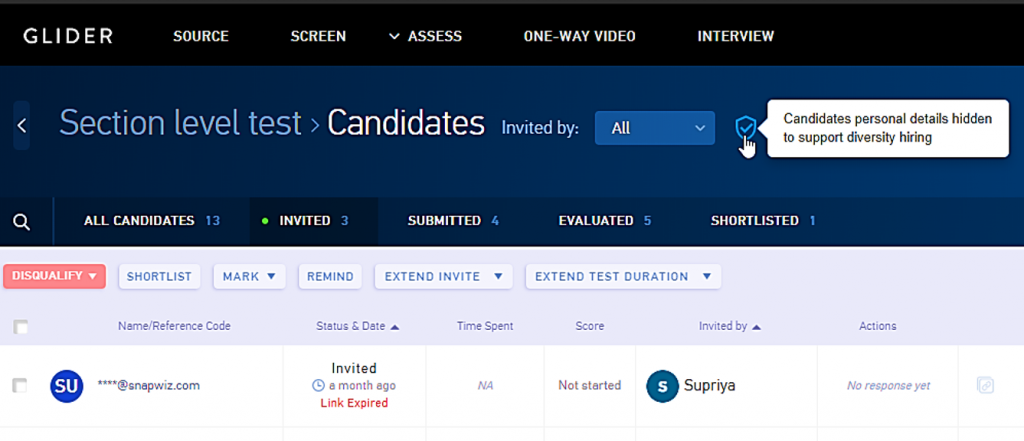 5.Additional Assessment Features to Disabled Candidates
Glider's accommodation features for the disabled are in compliant with ADA guidelines. Considering that disability can come in any form and behavior, such candidates hey are granted additional time duration, different font sizes, brightness, background theme. They are also allowed to ask for alternative assessment methods like direct face-to-face interviews or phone interviews.
5.1 Access to Glider's Accommodation Features
This feature is built exclusively for the candidate's convenience. Like in the screenshot below, a candidate has to fill a Voluntary Self-Identification of Disability form before he/she begins the assessment.
On filling the form with necessary details, candidates with disabilities are allowed to access Glider's Accommodation features. Provisions like extra time are allowed in assessment.
5.2 Review of Candidate's Accommodation Request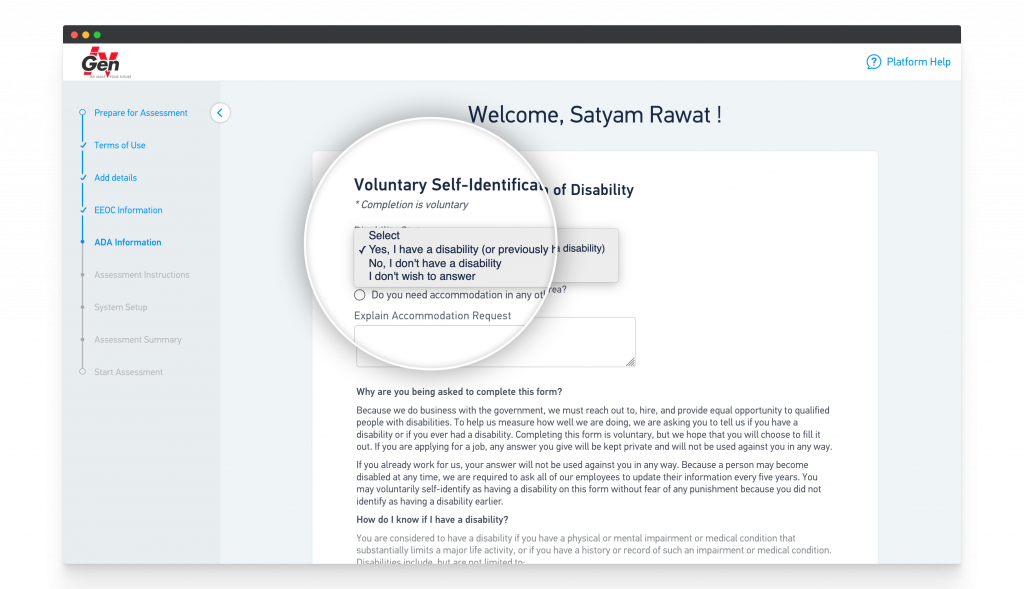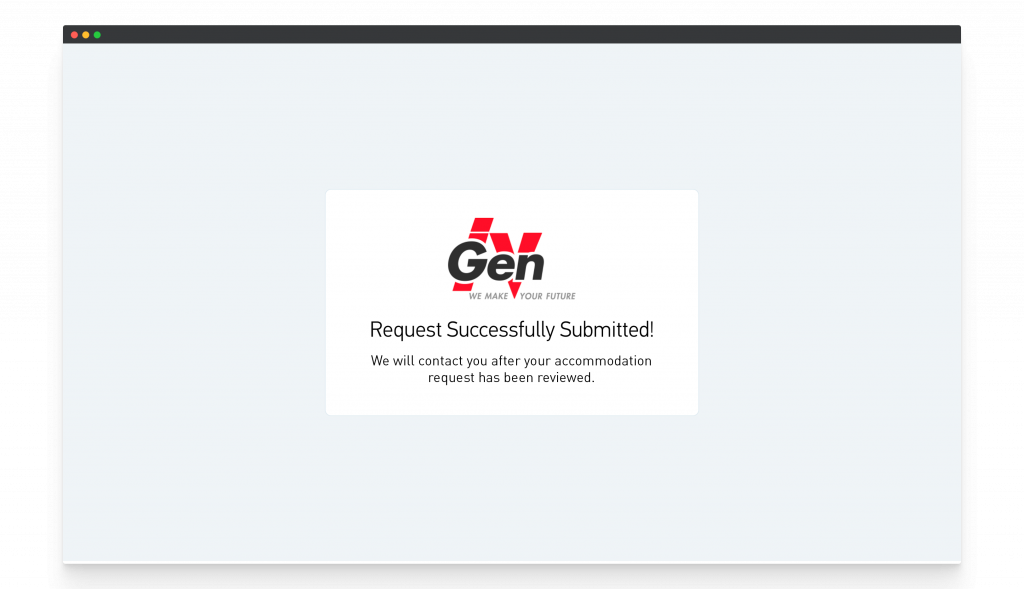 Like in the screenshot, Glider's team receives and reviews the accommodation request for authenticity and eligibility.
5.3 Accommodation Request Approval
The green tick on the accommodation request signifies that the team has approved the request and the candidate is granted access to assessments.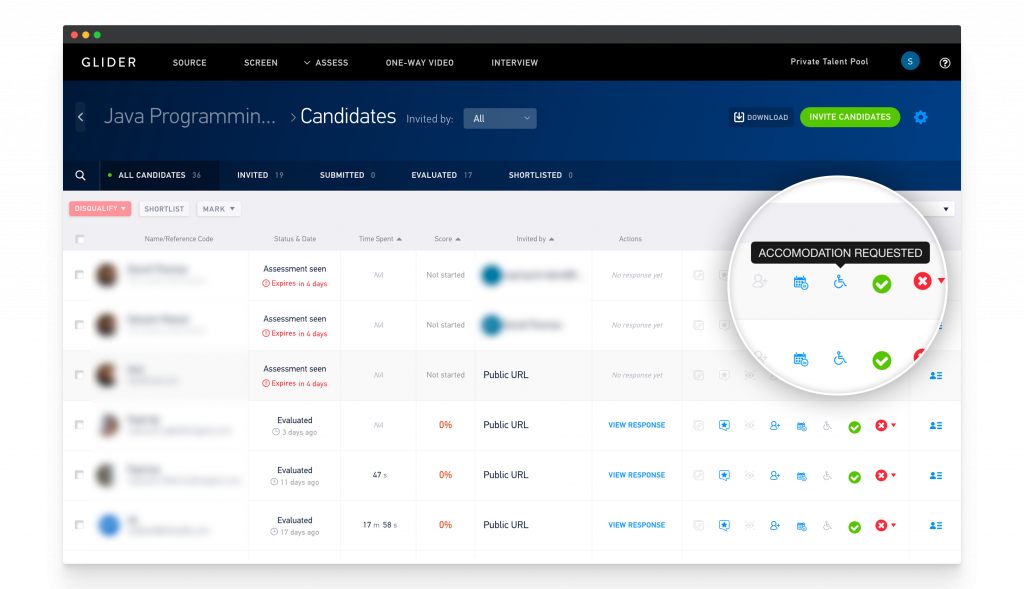 5.4 Glider Accommodation Features
Like discussed earlier, a candidate with a disability is granted two kinds of accommodation features that are compliant with ADA.
Coding Theme and Font Selection
Candidates with visual disabilities or color blindness can opt for a dark/light/high-contrast theme just like in the screenshot below. They can also ask for changes in brightness levels and font sizes during coding assessments.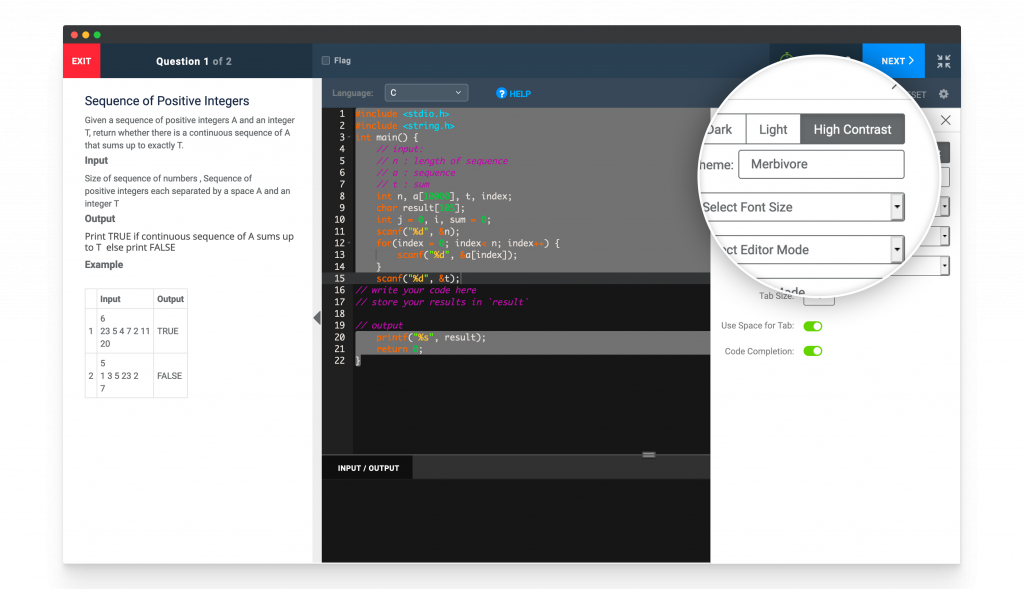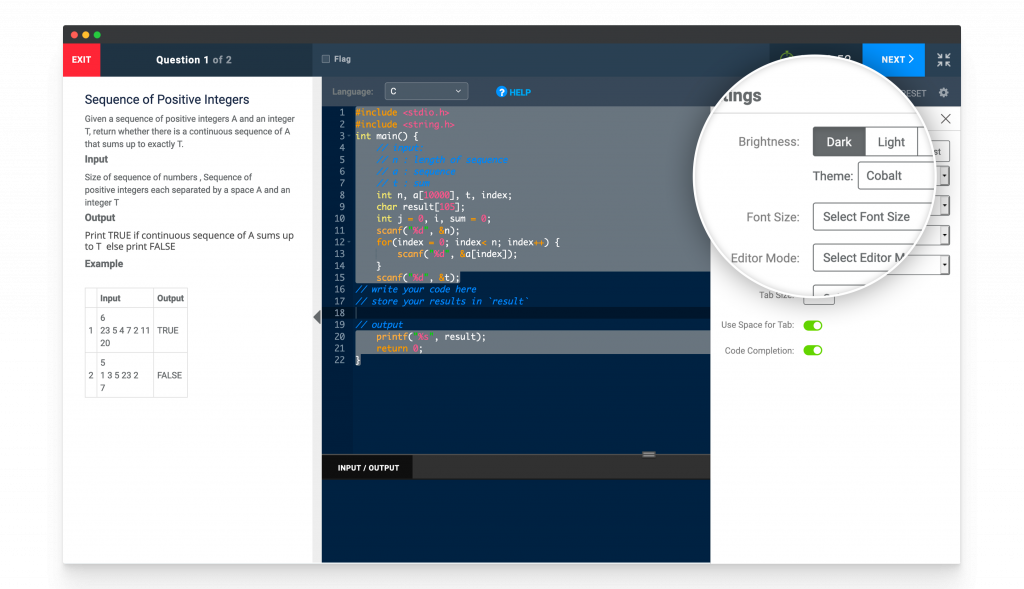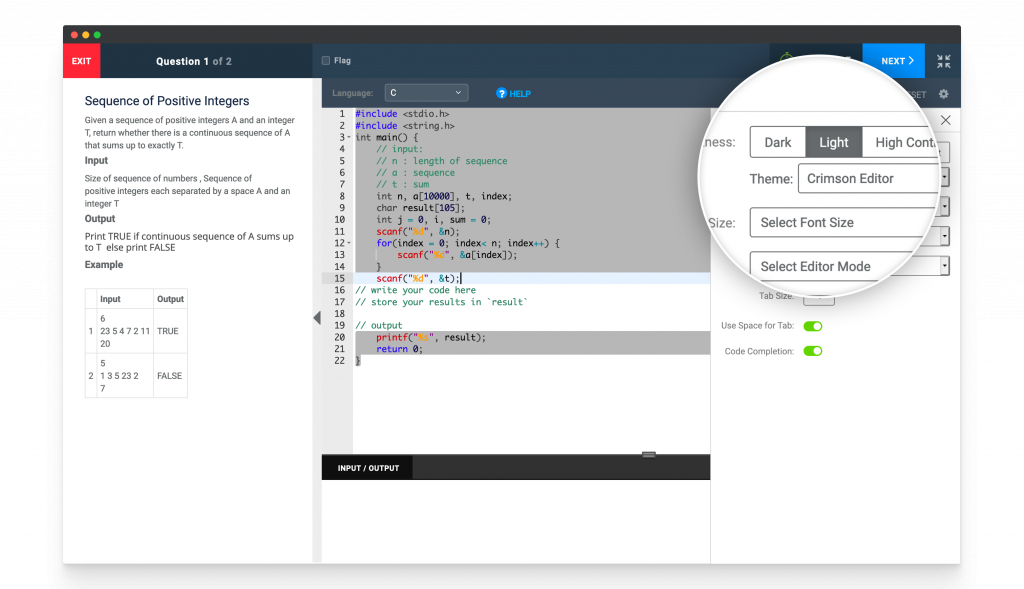 Accommodation for Alternative Assessment Method
Glider understands different disabilities that cannot be accommodated in the assessment workflows alone. In such cases, candidates can also opt to shift for direct Face-to-Face interviews, Phone interviews, or any such alternative that is most convenient to them. A screenshot of such a built-in workflow is below.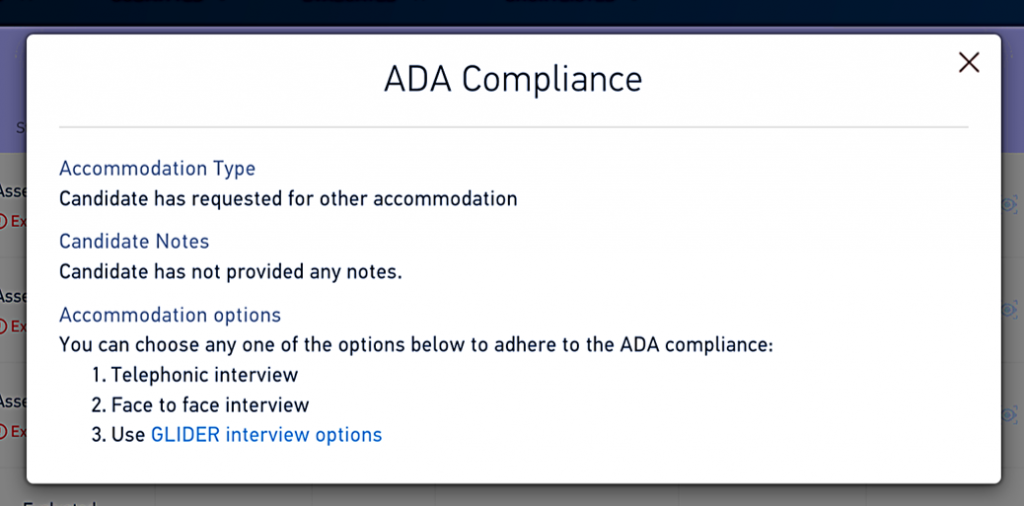 6. Get Top-qualified Candidate for the Final Interview Round
Glider assessment tools do not compromise with candidate's skills and performance scores at any stage of the assessment process. This enables the candidate pool to stay rich in diversity from the initial rounds of hiring itself. With Glider's assessment and accommodation tools, the promise of DEI is fulfilled from talent sourcing to talent acquisition.
Glider's Latest Product Release​
Being a talent intelligence company that strives hard to bring innovations on the table frequently, Glider has moved one step closer to enhancing the hiring process. Latest product updates saw the following new features added to Glider's products:
Mobile friendly, multi-device proctoring
Assess candidates on .NET and DevOps ready-to-use simulators
Improved mobile optimization for screenbot
DEI enabled Live Video Interviews
Added visual talent insights using D3
Special mention goes to DEI-enabled live video interviews. Being a DEI-friendly company that is, Glider's new assessment features along with the existing DEI toggle allow to completely mask the candidate's body in a live video interview. This makes the candidate invisible to the interviewer and makes the recruitment process DEI friendly end-to-end.