Diversity and inclusion have been put in as 'tick-box HR activity' in the company HR policy since the 'advent of time'. These two didn't hold much water in the pre-coronavirus world but with the world fighting against the pandemic and companies getting turmoiled, the need for diversity and inclusion has increased.
The need of the hour is for leaders to relinquish power and control and embrace inclusive leadership. It is evident that companies that have diversified and inclusive workplace culture, have responded well to the crisis period.
According to Sunil Nayak, CEO, Sodexo –
"When you have a diverse range of people bringing in their expertise backed not only by knowledge & work experience, but also culture and personal experiences, they give the organisation a world view."
As per a report by Mckinsey & Company, titled 'Diversity Wins: How Inclusion Matters',
"Over the past five years, the likelihood that diverse companies will out-earn their industry peers has grown. So have the penalties for companies lacking diversity."
Questions Regarding Diversity and Inclusion
An unprecedented crisis is happening in the business world and it is high time for a change. Diversity and inclusion have come up as the saviors but there still some questions that lurk within the minds of leaders.
How will diversity and inclusion help in the acceleration of the business?
What are the building blocks of a diversified and inclusive work environment?
How can leaders help in achieving diversity and inclusion?
Will these help in mitigating the bias-prone areas?
Will diversity and inclusion help in productivity?
How will these practices help in nurturing the mental health of employees?
Can a diversity-driven hiring process attract the top talent?
These questions have kept worldwide leaders unsettled during these tough times.
Michele Meyer-Shipp, Chief Diversity and Inclusion Officer for KPMG, has said,
"The pandemic has put these issues in stark relief, and there is a new level of focus based on news reports highlighting how the pandemic is disproportionately impacting disadvantaged groups."
These questions, if remain unanswered, may result in the deterioration of company reputations and eventually, provide existence to the lurking economic recession.
How to Ensure Diversity and Inclusion
Great Leadership:
According to Fanny Glover, Director of Equity and Inclusion at Early Care and Learning Council of New York, "Those in decision-making positions must understand what's going on in underserved communities across the nation."
Leadership requires control and power over the employees. But in these trying times, leadership should be a mixture of compassion and care. Mita Mallick, Head of Diversity and Cross-Cultural Marketing at Unilever says, "As leaders, we must strive to create psychologically safe environments. Our responsibility as leaders is to ensure that all of the voices are acknowledged and heard."
Leaders need to be transparent and should value employee concerns.
"We have to remember that everyone is on their own COVID-19 journey. Our journeys are not comparable." – says Mita Mallick.
Unbiased Environment:
Everyone has his potential and leaders should prioritize unbiased work culture where there is equality on all premises. Individuals should feel free and should be able to depict their minds in the 'decision-making sessions'.
The workers of a company need to feel privileged to work diligently. A system that encourages racism, sexism, or discrimination based on any factor will not thrive during these times.
Leaders need to ensure that there are no prejudicial components in the environment. According to The Hindu, biased decisions are prevalent in the hiring process of various companies. It may sound unethical but it is the harsh reality. There are 'bias-prone' areas in every company that needs to be mitigated to establish a diversified workplace.
Accept Mental Health Issues:
Everyone is fighting his fight and the emotional capacity of each individual is different. Mental health is a real issue and organizations need to acknowledge that.
COVID-19 has put everyone's mental health on the line. We need to accept that we are not robots but we are human beings, who have emotions and expectations. Leaders need to take measures to make sure that every employee is on the right set of mind and there are no anomalies.
KPMG hosts employee assistance programs to help employees maintain a healthy mind. The company also conducts meditation sessions and online mental health webinars to keep the employees active.
Encourage Gender Equality:
It has been found that women tend better to crisis situations than men. Since the advent of the pandemic, it has been evident that countries with a woman as the head of the state have responded well in fighting against the virus.
But, still, women are under-appreciated than men. According to the Global Gender Gap Report 2020 by the WEF, only 1/4th of women participate in the labour market compared to 82% of men. Also, women earn merely 1/5th of what men earn.
In India, only 13.4% companies have women on their boards of directors and 30% of women are working professionals.
It is high time we appreciate our female counterparts and see them as equals. According to SV Nathan, Chief Talent Officer of Deloitte India,
"Because organisations are more flexible about how roles are executed, women, who earlier felt disenfranchised when they got married or had a child, will feel more empowered. We're actively looking forward to giving those who chose to take a break in their career a warm welcome back."
Glider.ai: Refining Diversity and Inclusion
Glider.ai provides assessment tools that promote diversified hiring without any place for prejudice. The platform provides 'Diversity and Inclusion (D&I) Support Tool' that enables companies to:
Increase diversity among screened candidates.
Weed out subconscious bias by helping you create a standardized, unbiased hiring process.
Auto shortlist top percentile candidates in the next round without any human intervention.
Review the candidates work without knowing any candidate identifiers.
Get the top qualified candidate for the final interview rounds without any conscious or subconscious bias.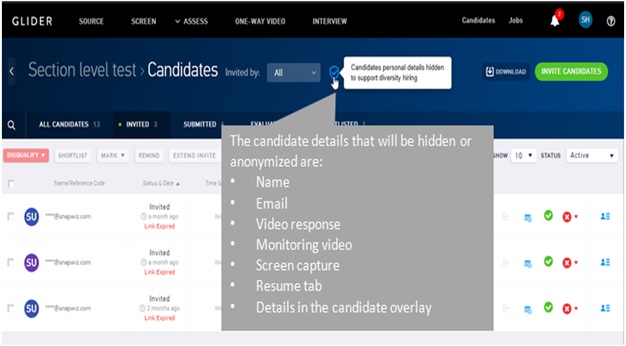 Importance and Benefits of Diversity and Inclusion
Diverse teams outperform individual decision-makers up to 87% of the time.
Workplace diversity boosts the company's reputation and brand.
Engagement is an outcome of diversity and inclusion (Deloitte Research).
Inclusive companies are 1.7 times more likely to be innovation leaders in their market.
67% of job seekers said a diverse workforce is important when considering job offers (Glassdoor Research)
To Conclude
COVID-19 has brought out the world to a stop and companies must act up fast to regain and thrive. The 'work-from-home' situation has allowed companies to regenerate and regroup. But, diversity and inclusion must be induced in the work culture.