It's June! And we need no other reason to be on Cloud Nine. The month-long celebration of DE&I – Diversity, Equity and Inclusion is making the world come closer, shedding the nuances of discrimination, of every kind around the world. Thanks to Millennials and Gen Z as they are called, for ensuing multi 'everything' in the workplace – multi-colour, multi-culture, multi-ethnicity, multi-race, multi-gender, multi-religion, multi-faith, multi-lingual, multi-identity and what not!
DE&I is not a new currency in the world. The buzzword has been in currency for at least a century. Critical voices about 'social change', 'equal opportunities and 'diversity management' were raised now and then to promote DE&I into mainstream content. As a matter of fact, the late Michael Jackson made DE&I relevant before it was all prioritized like in the current times. His hit numbers, "They don't care about us" and "Black or White" addressed racial and ethnic identity discrimination which were either taken for granted or less embraceable.
Therefore, if the flames of DE&I are still contemporary, much credit goes to the change initiatives ignited by the voluntary efforts of the enforcers in the past.
Throughout this blog, you will find many quotes on DE&I by staffing industry experts who are more passionate and committed to usher in a change in hiring and work culture.
While the last year has ushered in a 'new normal' due to the global pandemic, there are other disturbing incidents that shook the world. The brutal killing of George Floyd, an African-American artist by Minneapolis police officers impacted not just police reforms; but also revealed prejudices against colour and minority.
No wonder, disturbing incidents like this have sparked outrages around the world – to confront literally everything that stops humanity to come closer.
Decoding DE&I
Understanding DE&I is as vast as an interstellar journey. The terms represent what is really close to every individual be it racial diversity or gender equality or injustice or even literally any such chauvinisms. To define the ABCs of DE&I, it can be like this:
Diversity is acknowledging and embracing the demographic (inherent and acquired) differences like race, gender, ethnicity, socio-economic status and others. Equity is assuring that all principles and systems are fair, transparent and unbiased for everyone. Inclusion is creating a sense of supportive and respectful work setting in an organization.
Nevertheless, the simplest meaning can be found in Verna Myer's words.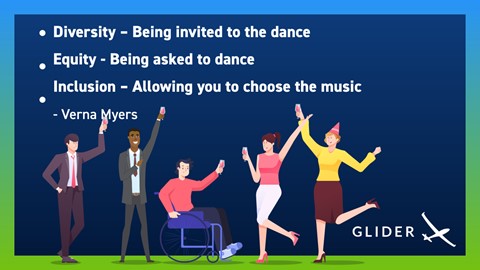 Also, in the words of Audra Jenkins Chief Diversity & Inclusion Officer, Randstad North America, Randstad USA, "DE&I allows you as an employer is giving a voice to the voiceless. It is also about making sure that you are making an impact positively and using your platform to make a difference."
How Important is DE&I for Hiring?
According to the 2018 Deloitte Millennial Survey, workplaces are going to comprise 75 per cent of millennials by 2025. The same survey also resonates that 74 per cent of the millennials believe that an inclusive organization is more innovative. The message is loud and clear. Organizations need to embrace variety, not just in business launches, but also in terms of DE&I.
A McKinsey report in 2019 revealed companies that are more diverse are likely to reap better revenues than the ones that are less diverse.
In an equally supportive research report by SIA in November 2020, it was reported that out of two-thirds of executives, 63 per cent agreed on the fact that diversity and inclusion have become a top-notch priority in the interest of concurrent social climate. Recognition for DE&I has never been more revered in the world than by millennials.
Know the Millennials
Millennials or Gen Y are different in a lot of ways compared to their previous generations. Born between 1981 and 1996 specifically, millennials hold different perspectives and interpretations on many issues. They are also the ones who identify themselves on more than one affiliation – a hallmark of millennials.
It may be for this reason that millennials are more open-minded and welcoming of issues that were earlier underrepresented; altogether have prompted their mindset to encourage diversity, equity and inclusion at workplaces and everywhere else. Speaking of workplaces, millennials envisage DE&I climate from end-to-end; from inclusion to career advancement.
The staffing industry is already creating ripples in this regard, especially when it comes to hiring millennials. To quote the words of Gene Waddy, CEO, Diversant LLC, "DE&I is a tool by which all things are possible. When I see companies that for generations were nowhere on the battlefield, but are now making real DE&I commitments in the space, it makes me feel really hopeful."
Prioritizing DE&I in Hiring Millennials
Embedding DE&I in hiring practices is not something magical that happens overnight. It is a commitment demonstrated by employers.
What gets Measured, gets Managed
Likewise, establishing a metric to measure the efforts towards DE&I initiatives is one of the primary steps in hiring. It also helps in tracking the progress of the same using predictive analytics and other statistical procedures.
Redefining Talent Acquisition
Building a constructive talent pipeline by getting rid of usual stereotypical criteria and unconscious biases. Instead, the company's page should be filled with anecdotes of DE&I in the work culture, apart from traditional recruitment methods. Recruiters, in this sense, can take the help of automation to screen resumes thereby reducing manual discrimination and other complications. It also helps broaden the talent pool base.
Reduce Unconscious Bias
Biases and skepticism go hand in hand when it comes to recruitment and hiring. According to a report by Robertwalters, a whopping 81 per cent of employers agree that unconscious bias has a fatal impact in missing out caliber candidates. But harnessing recruitment-based AI tools can significantly identify biases in the recruitment funnel and boost DE&I elements.
Social Media Platforms
A melting pot of diversified talent majorly of millennials and forthcoming Gen Z. social media, especially professional platforms not only help companies advertise their job vacancies but also hold a key for hiring a vast diversified talent intelligence. As more and more collaborations and innovations happen on social networks, recruiters can interact with potential candidates through connections, networking, co-creating and other engagements.
Inclusive Recruitment
When Facebook's first visually impaired engineer, Matt King made headlines in 2016 for an AI-powered tool for the blind, the world just went in awe. A differently challenged millennial's innovation only proved that talent has no barriers just like what Tinisha Boohart's (Founding Partner, Director of IT Practice, Primary Talent Partners) words, "The world is way too big to be singular in any aspect."
Disability-friendly Website
Another great initiative to foster equity and inclusion in the workplace! According to a popular survey, 20 per cent of website traffic comes from disabled people. Company websites that are embodied with assistive technologies like screen reading, alt tags, descriptive URLs, contrast sensitivity and other optimizations can remove web accessibility barriers to a great extent.
The Future has Arrived
There are no boundaries to human endeavor, said Stephen Hawkings in one of his works. Similarly, it can be said that our lives, souls and talents are more diverse than our DNA. Like we said, integrating DE&I into the workplace ecosystem may not be an overnight accomplishment. But the journey has already begun. The generation of millennials are not only talented but are also densely passionate to work for those companies that celebrate DE&I in their business practices and work culture – a true sign of bringing a positive change in the hiring strategies.
In this regard, the words of Sue Bhatia, Founder and Chairwoman, Rose International Inc, make sense, "Progressive organizations are committed to diversity and inclusion. Forward-thinking leaders assess workforce gaps to create strategically diverse hiring practices. For business leaders, prioritizing diversity in hiring is vital for an even recovery, and that includes committing to hiring more women and minorities."