Ever wondered why some of your hires turn out to be bad for the company?
You have the perfect plan. You explore and evaluate the candidates through random questions and think that your job is done.
But what goes wrong?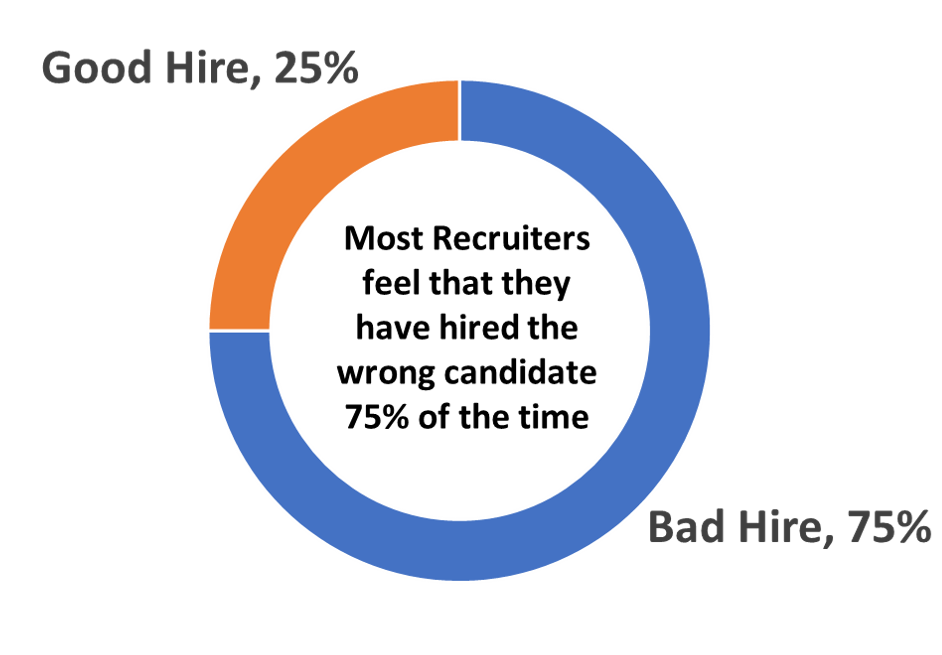 So, hop on with us as we uncover the following: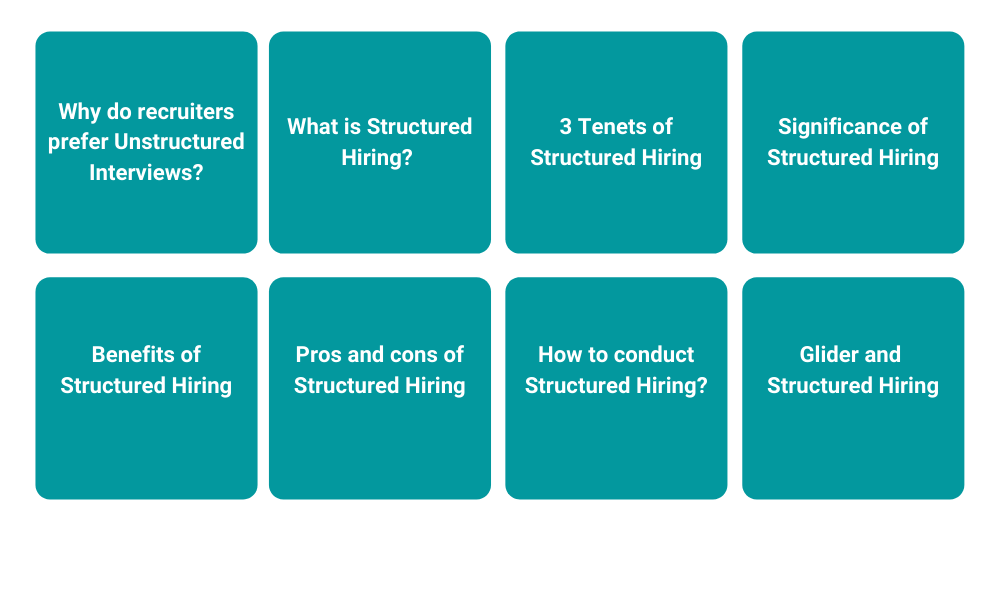 Why do recruiters prefer Unstructured Hiring?
Most recruiters prefer the unstructured way of hiring, as they think it helps them assess better. But, while unstructured hiring has got good ratings from recruiters, studies show that they are not much effective in predicting future job performance.
So, why do recruiters stick to a plan that is not fruitful, you ask?
The unwillingness to give up unstructured hiring may be due to the following two reasons:
Managers are overconfident about their methods.
They are not comfortable with the automated approach that may nullify human judgment.
What is the solution then?
The solution is simple. To reduce the number of bad hires, the recruitment team should be on the same page and follow a strategic and structured hiring plan. The better the structure of hiring, the better would be the results.
What is Structured Hiring?
Structured hiring is an approach to hiring that starts from the application till the onboarding. In this approach, you need to be consistent and objective while making any decisions. As per several reports, structured hiring is twice as effective at predicting job performance than unstructured hiring.
To have a structured hiring process you need to:
Be clear about the job criteria and skills required for the position.
Define the whole process and duration clearly.
Ask every candidate the same set of questions.
Well, it sure does take a lot of work!
According to research by Frank Schmidt and John Hunter, unstructured hiring can explain only 14% of a candidate's future job performance, while structured hiring can predict that by 26%.
3 Tenets of Structured Hiring
The ideal candidate is defined by the objectives of the company.
A calculated process is used to assess the candidates.
Hiring decisions are based on proper data and evidence.
Significance of Structured Hiring
Candidates face a lot of challenges during the hiring process. If your hiring process is unstructured, then there is a greater chance that your candidates will face problems.
This will lead to the opting out of valuable candidates, leaving you with bad hires.
Here are some of the challenges faced by candidates during an unstructured hiring process:
Unclear job role.
Communication gap with recruiters.
Lack of knowledge about further processes.
Lack of flexibility.
Less interactive assessments.
Prolonged hiring process.
So, what does structured hiring provide?
Benefits of Structured Hiring
Better results
A structured approach towards hiring helps you overcome obstacles and lets you make data-based decisions, nullify unconscious bias, increase effectiveness, and reduce hiring duration.
Better experience
A structured hiring process creates a better experience for everyone involved. Candidates feel like their value is appreciated and their time and efforts are respected.
You can monitor the whole process better and predict the future of the role. Interviewers are aware of their duties and hiring managers get candidates who meet their criteria.
Structured hiring enables you to make better decisions for the company. It guarantees better performance and productivity.
Structured hiring is not just about asking set questions. Companies such as Google use a data-driven and automated process to yield better outcomes. Their people-analytics departments use data to create assessments that are more highly correlated with real-job situations.
Pros and cons of Structured Hiring
Here is a comparison of all the advantages as well as disadvantages of structured hiring.
Advantages of Structured Hiring
Mitigated bias: Since everything is planned and pre-decided, the factor of biased judgment gets nullified from the hiring process, leading to consistency in the methodology as well as validity and reliability of the hiring system.
Fast-paced enactment: Due to the proper systematic approach as part of the structure, you cover a large number of candidates and can conduct the hiring relatively faster compared to unstructured or semi-structured hiring.
Approximately accurate responses: Since all the candidates involved in a structured hiring respond to the same questions, it gets easy to find and compare responses during analysis.
Legal protection: As structured hiring predicts job performance better than unstructured interviews, and provides more detailed and analytically proven documentation, they are significantly more defensible in court.
Disadvantages of Structured Hiring
Less human judgment: Recruiters are restricted to a pre-decided approach. They do not have the authority to think outside the box or change the hiring protocol to explore other interesting topics that may make the hiring process more effective.
Incomplete reports: Structured hiring does not allow recruiters to completely explore all the different perspectives and traits of the candidates, resulting in fragmentary and incomplete information.
Questions may be subject to rendering: All candidates may not share the same mindset and may interpret the structured questions in the hiring process differently based on their personal views, resulting in a variety of responses.
How to conduct Structured Hiring?

Structured hiring can be a loose cannon if not managed properly. The meticulous dissection of each step has to be done in a way that results in the overall success of the process.
Here are the steps that you should follow to undertake structured hiring.
Clarify your requirements
Pre-determination may cause prejudice at some points leading to a subjective and one-dimensional interview. You need to have a broader mindset and must focus on the right skills needed for the job instead of the candidate.
The first step to conducting successful structured hiring is by analyzing the job description. A typical job description carries all the required skills for the job.
It is better to know the role first and then structure the hiring. A thorough job analysis will help you create a clear view of the further steps.
It is necessary to ensure that the candidate possesses all the qualities required not only for the job but also the company culture.
Some of the most common qualities that you should look for in candidates, despite the needs of the company, are:
Communication skills
Ethical maturity
Dependability
Initiative
Willingness to learn
You should know which qualities are needed. The over-assessment of too many qualifications exhausts the candidates creating a bad experience. It is advisory to trim the requirements as per the needs.
Before starting the structured hiring process, you should ask yourself these questions to ensure that you are not overdoing the process.
Is the skill a must-have?
Why is this skill required?
Is this the right way to assess the skill or are there any other ways?
Can the candidate learn this skill eventually?
As a recruiter, you should have the right knowledge about the skills. Otherwise, it would hamper the company's reputation.
The in-detail definition is not required but you should have an idea of what you are doing.
Assessing the skills
Online assessments are the most efficient way of evaluating the candidates' skills objectively. However, they are also prone to cheating and malpractice.
You may use remote proctoring tools to check cheating while assessing. Online assessments also save the candidates from the hassle of traveling, making it more effective.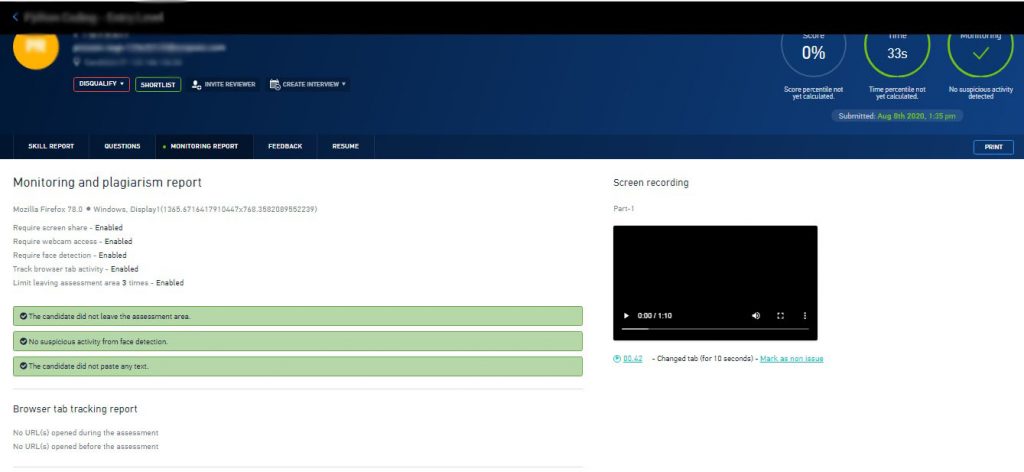 You may schedule your assessments by integrating your assessment library with your company's ATS and select the required assessment(s).
Ask what is necessary
Interview questions should to the point. They should not give mixed signals to the candidates. You may select from pre-made interview questions or make questions of your own.
There are various categories of interview questions. Let's have a detailed description of all the different types.
Job-specific questions: These are the questions that you should ask to evaluate the candidate's job knowledge. The questions may be regarding company knowledge, hard skills like knowledge of job-relevant concepts, legislation, or tools. You can also ask candidates to complete mini-assignments on a whiteboard or piece of paper.
Generic questions: These questions analyze the basic qualities that every employee should possess. These are based on the company culture and environment.
Soft skills questions: These are the questions that you should ask to measure the cultural fitment, personality traits, or abstract skills of the candidates.
Situational and behavioral questions: These questions will help you get a good grasp of the candidate's behavior and situational awareness. Behavioral questions provide an image of the candidate's past experiences and are great in predicting future job performance. Situational questions test the candidate's awareness based on real-life situations.
Create a proficient rating system
A scoring system is the most important thing to make sure of the decisions. The most common scales are five points or seven points or ten points. The key is to accurately define the scoring levels so that there remains no confusion amongst the recruiting team.
As per research, the diligent defining of all scoring levels makes the scores more resilient against bias because interviewers have clear job-relevant criteria.
It's often useful to develop better defined and detailed scales for certain skills. E.g.,
Level 1 – Low: Handles situations but requires close guidance.
Level 5 – Average: Handles situations that have a moderate degree of tension and requires intermittent guidance.
Level 9 – Outstanding: Handles interpersonal situations involving a high degree of tension and also advises others with great leadership skills.
Final shortlisting
The final step is evaluating and rating the candidates' answers. All you have to do is:
Check your notes.
Rate the answers as per your rating scale.
Once you are done with that, you will acquire a list of the best prospects for your company.
Glider and Structured Hiring
You can conduct structured and standardized hiring remotely. Use live interviews to engage with the candidate and save the trouble of travel for everyone involved in the process.
You can conduct one-way video interviews by having candidates respond to set interview questions. Rate candidates as per the scales and create a propound talent pool.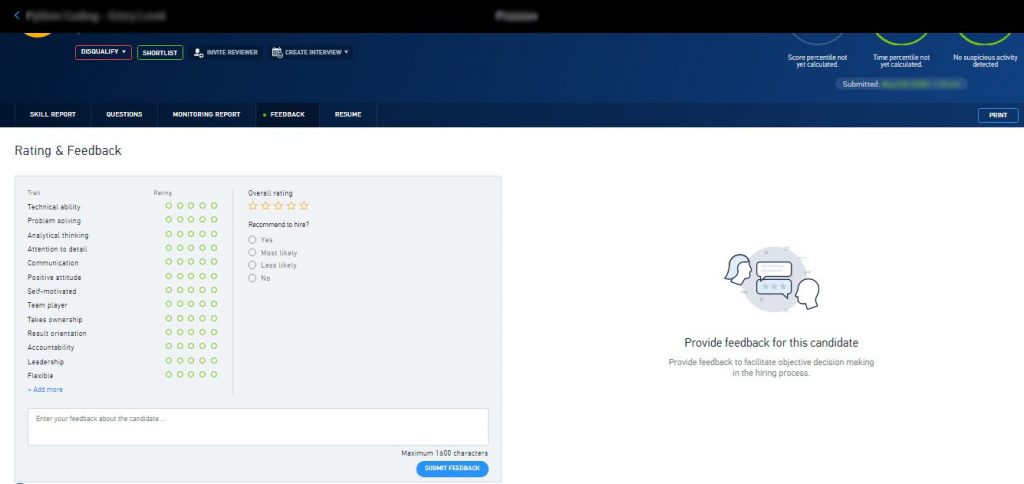 Glider's interview question bank helps you create job-specific scenarios and lets you watch candidates' recorded answers on demand.

Here are the benefits of using Glider's platform:
Standardized hiring process with real-world scenario-based assessments.
On-the-job performance assessment with live coding and whiteboard feature.
Automated interview process with one-way interviews.
Remotely scheduled, conducted, and managed interviews with recruiters dashboard.
Easy collaboration with multiple hiring managers.
On-demand candidate performance evaluation.
Reduced time to hire with data-backed decision making.
Low candidate attrition rate due to good candidate experience.
Increased quality of hire.
Recruit the best talent with Glider. Arrange a meeting with us and explore!