With the digital transformation of every sector, HR technology has flourished. Online recruitment has become the go-to process for recruiters around the world for attracting the best talent.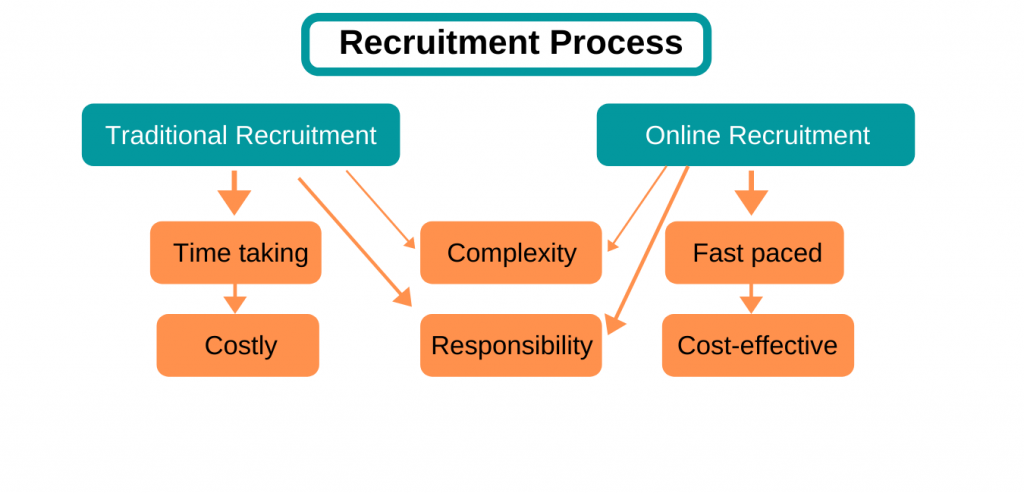 No doubt in saying that online recruitment has become a favorable means of talent acquisition, making organizations create innovative strategies for recruitment.
Online recruitment has made hiring easy for the recruiters but knowing what tools to use to achieve hiring success requires awareness of - the top challenges that your hiring process faces currently and what kind of outcome you expect to achieve with online recruitment.
Finding qualified candidates has become more challenging and complex. With excessive talent everywhere, recruiters need to pull a lot of strings to recruit the right candidates.
Around 60% of employers say the most difficult part of hiring the right candidates from the vast pool of candidates.
Growth of Online Recruitment
It has been found that the increase in the use of A.I-powered searches is one of the prime reasons driving the online recruitment market. As per Technavio, the online recruitment market is poised to grow by USD 3.52 bn during 2020-2024, progressing at a CAGR of over 7% during the forecast period.
India alone saw an increase of 15% in digital recruitment amid the pandemic. India's SME sector generates employment for 60 million people and creates 1.3 million new jobs annually.
The growth of online recruitment is inevitable and the advantages are plenty.
Top Hiring Challenges
1. Lack of Skilled Talent Pool
Most recruiters often have to deal with a vast talent pool where the majority may not have the right set of skills. They are bound to select the best amongst the pool, which might lead to compromising the need for selecting the best candidates overall, based on the company's requirements.
Moreover, skilled candidates are regularly contacted by several recruiters, making them hard to get. To attract them to your company you shall have to stand out amongst the rest.
2. Lengthy process
If you have a long online recruitment process, chances are you will lose the talent that you need. The hiring process should be short and simple.
Most companies undertake a long hiring process resulting in the loss of money and resources, in addition to the loss of interest from candidates.
As per LinkedIn, 70% of companies take up to 1-4 months to complete their hiring process.
But how fast do you need to hire?
According to ERE Medis's research, top candidates stay available on the job market for 10 days only.
3. Lack of data-driven recruitment process
Data analysis helps in making the online recruitment process more effective and efficient. Hiring analytics can help your company achieve its desired business results.
According to a Global Human Capital Trends study by Bersin by Deloitte, 71% of companies see people analytics as a high priority in their organizations.
Then why is it a challenge?
Analysis is necessary to increase productivity, but collecting and processing data can be a hassle. Most companies use manual spreadsheets to record the details of the process. It establishes the possibility of error, ultimately making it go in vain.
The lack of an automated and compliant data storage system makes the whole system a mess.
4. Weak Brand Image as an Employer
A strong brand name helps you to attract better talent.
Seems like a piece of cake?
Well, the process is hectic as you have to ensure providing a great candidate experience as well as promoting your workplace culture. This is a collective and complex effort that needs you to be agile and proactive at every phase.
5. Bad candidate experience
It is as simple as it gets. If you provide a great candidate experience during the process, it will help in increasing your chances to retain the talent in addition to establishing your employer brand.
As per Careerarc, 63% of candidates reject the job offer after a bad interview experience.
Candidates evaluate a company based on the hiring experience and thus it is a essential that the recruiters provide that.
6. Biased recruitment process
A stereotypical recruitment process that does not promote diversity or enhance inclusion makes the hiring monotonous and subjective.
Most companies fail to commit objective hiring due to unconscious bias, resulting in the loss of great candidates. An unprejudiced recruitment process ensures diversity in the workforce and also helps in creating a strong brand.
According to LinkedIn's research, 78% of HR professionals say that diversity is the top trend impacting their hiring process. Also, 67% of job seekers look for a diverse workforce when considering job offers, as per Glassdoor.
7. Unstructured recruitment process
Creating an efficient online recruitment process may sound simple but it demands much work. To make the process efficient, recruiters have to keep the whole process streamlined and under constant watch. Coordinating the process requires vigilance and agility.
Fast pacing the process may seem simple, but administrative tasks often take away valuable time, making the process long.
An effective collaboration between the HRs, hiring managers, candidates and other stakeholders involved in the hiring process, ensures a fast-paced process. But with most of the people working remotely, this too has become challenging.
Using Online Tools to Overcome Hiring Challenges
Build a talent pool of your own
Stack ranked talent pools help in reducing time to hire and also costs. As you have already assessed and interviewed them in the past, you know who will fit well in a position.
Moreover, sourcing new candidates and forming a talent pool can also be beneficial. It may help in ensuring diversity and inclusion and creating a comprehensive candidate database.
The key is to engage and connect with the candidates from time to time to make sure that the candidates are involved in the process.
Glider provides A.I powered stack ranking to help you find the best candidates by integrating with your ATS.
Train your recruitment team
Even interviewers need to be trained to keep them agile. With time, most recruiters make an opinion regarding candidates that makes the process biased. Eliminating biases is a common reason for training hiring teams.
Also, recruiters need to be trained to understand the newest trends.
Here are some of the ways of how recruiters can be trained:
Instruct interviewers on how to pose interview questions to candidates.
Enlighten them about unconscious biases and ways to nullify them.
Arrange mock interviews for new and inexperienced interviewers.
Glider has guided phone screens and interview methods to empower you to undertake interviews perfectly. The step-by-step guide helps you to master your online recruitment process.
Create variable strategies
Most companies wait for the candidates to reach out to them instead of attracting the candidates.
With the digital transformation, it is time recruiters made use of the online platforms to focus on attracting the candidates.
Use social media to post jobs and find ways to promote the company.
Create proper advertising of the company and also showcase the culture and environment of the company. Employee stories can also be used for that purpose.
Create career pages and attend events for candidates to participate in.
Use sourcing platforms to find candidates based on the requirements.
Want to know more about Glider and its products?
Visit www.glider.ai and arrange a meeting with us.