Holiday cheer is in the air and to add to that we have some exciting new Glider features and updates to make your hiring more efficient than ever! Have a look at the many features we have added this month to further enhance your Glider experience.

Flexible Grouping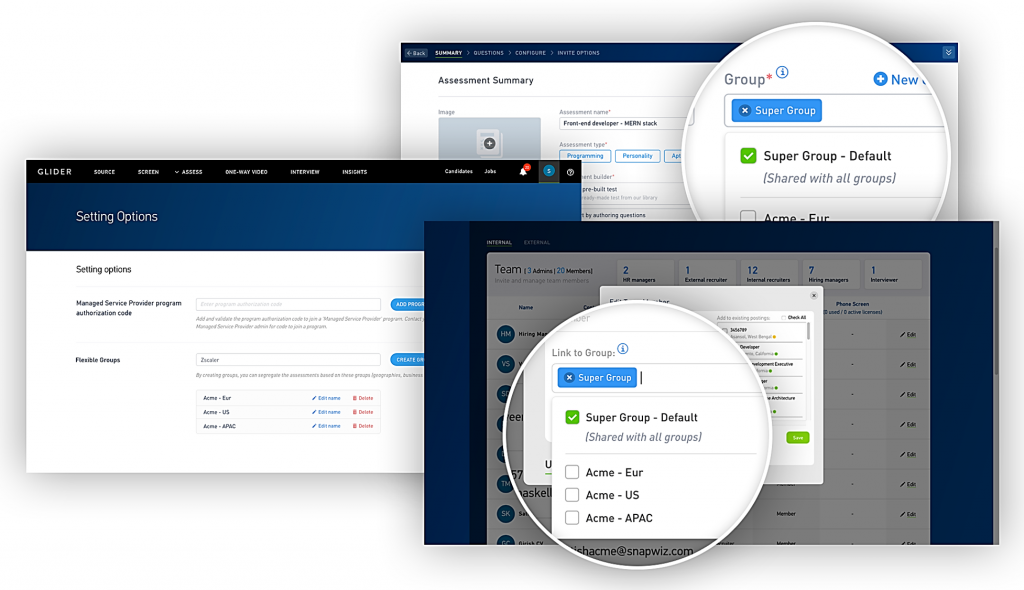 Managing employees and assessments becomes much easier with our new 'Flexible Grouping' feature! With this new feature, you will be able to create groups to segregate employees and assessments.
You can access the option to create groups in your Glider account settings, and add team members to the group to provide them access to specific assessments. To add an assessment to a specific group, go to your 'Assessment Summary' to 'Link to Group' and add that assessment to any of your groups to give them access to the assessment.
Admins will have the option to create the groups in the Setting options
Users can be part of one group or multiple groups
Cancel Candidate Invite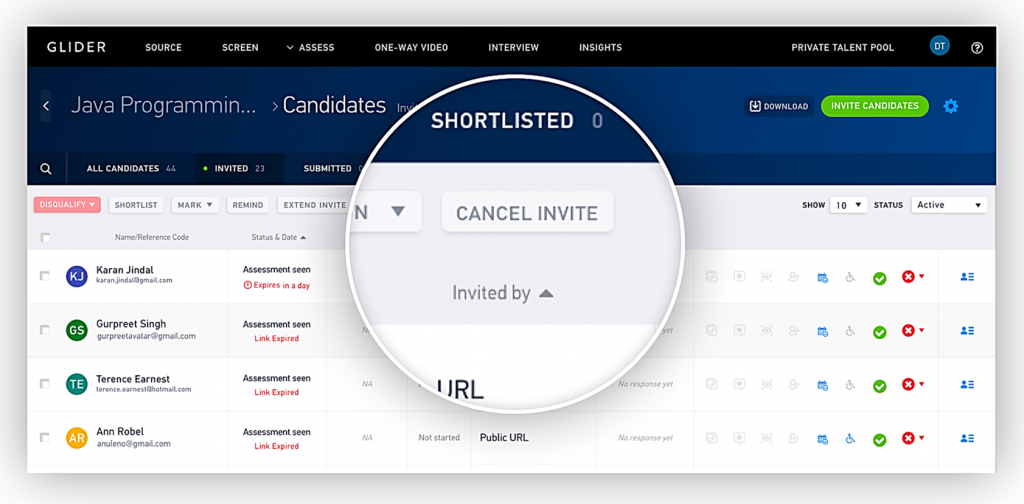 Introducing the 'Cancel Invite' feature to ensure your Glider credits don't get wasted ever! No need to fret if you notice you have sent the wrong test invite or if you sent a test invite to the wrong candidate. Just cancel the invite before the candidate has started the assessment easily with one click!
To cancel an invite, go to the 'Invited' tab of your recruiter's dashboard, select the candidate whose invite you want to cancel, and click on 'Cancel Invite'. On canceling the invite, the test link shared with the candidate will be disabled and the candidate will no longer be able to access or attempt the test.
Clubbing Assessments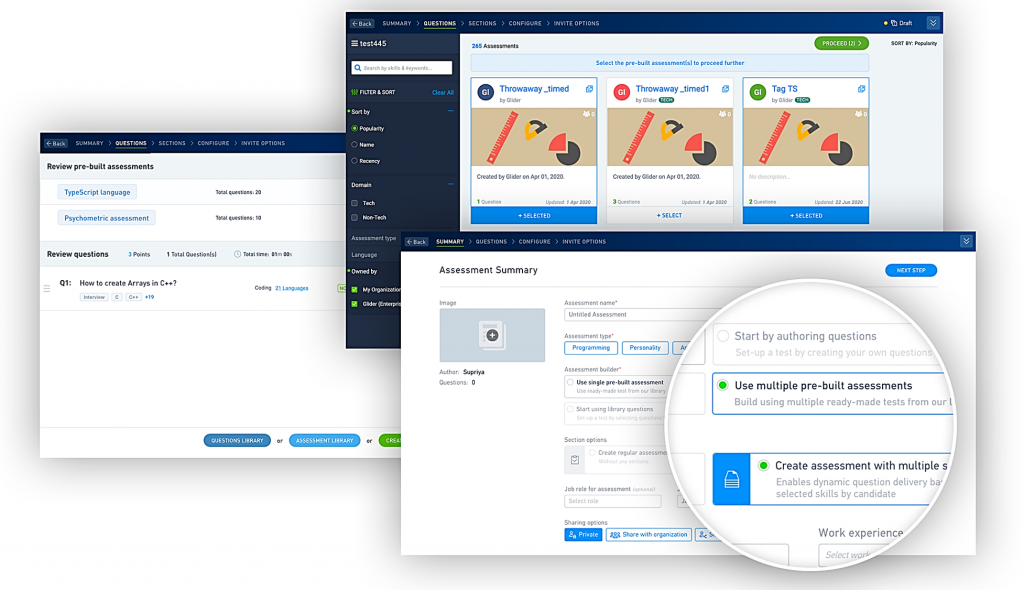 Glider now provides you the option to club assessments and share them with candidates as a single assessment. Easily combine multiple assessments into one, and forgo the hassle of inviting candidates numerous times for different assessment rounds.
In the 'Assessment Summary', you can choose the option 'Use multiple pre-built assessments' to combine multiple assessments into one.
You will be provided a new option to pick multiple assessments in the 'Assessment Summary'
Such assessments will always be section level assessments
Video Recording Option In Question Authoring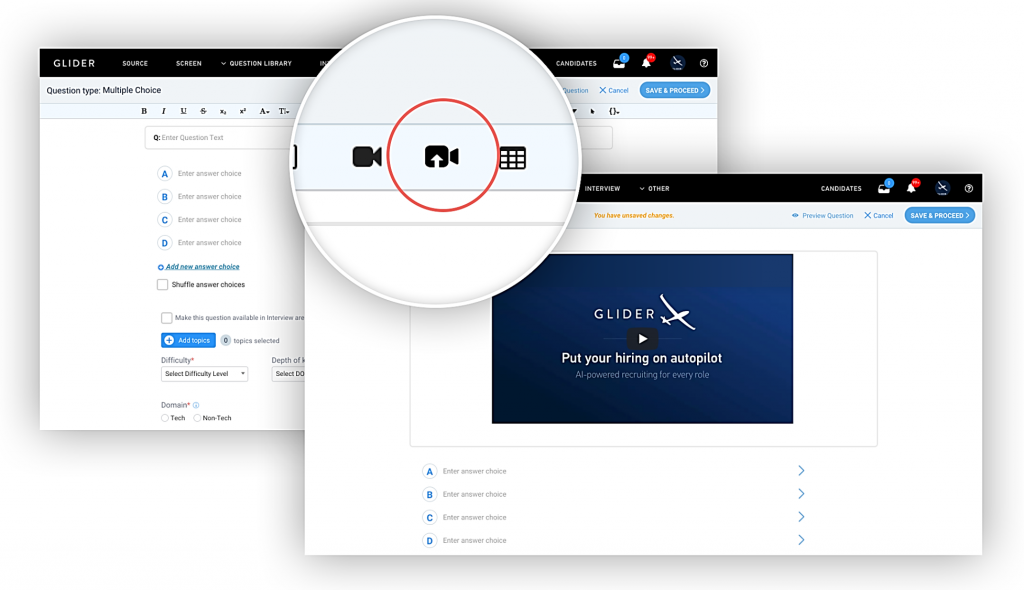 Now you can record video questions live while authoring questions. Make your assessments more personalized with live recorded video questions to make your candidate experience more interactive and interesting!
While authoring questions, you will now have access to the 'record' button that can be used to record a video question. With this new feature, you can create video questions on the go without the need to insert or embed prerecorded video questions during the question authoring process.
Question Locking For MSP Shared Assessment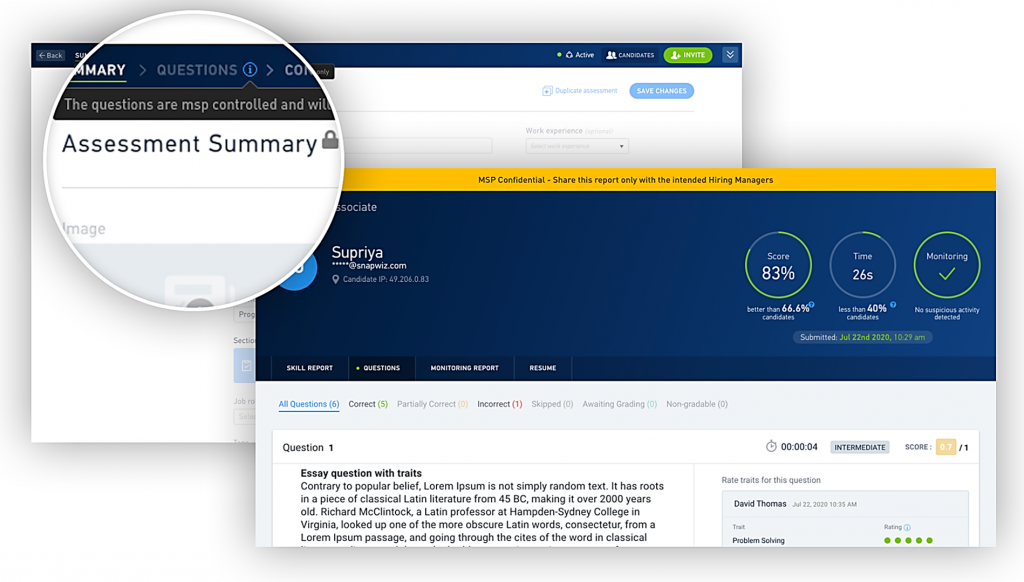 In an attempt to further protect your test integrity, we now allow you to restrict suppliers access to shared assessment content. This is a company level setting that will allow you to restrict suppliers from accessing assessment content in case of shared assessments so that no test content gets leaked.
In case a shared assessment content is restricted for access by suppliers, the questions tab will be locked for them in 'Assessment Summary'. Additionally, in the candidate report, there will be a message on top saying 'MSP Confidential – Share this report only with the intended Hiring Managers' . This is to remind suppliers to share the candidate report only with the intended Hiring Managers as per the process set by the MSP.

Register for Glider's monthly webinar to get a live demo on how to use Glider's new and existing features and to get all your queries and concerns addressed by the Glider Product Team. You will be sent an email with the webinar date, time, and other details shortly after you register.