Everyone had to adapt to the pandemic- businesses, workers, employees, and people looking for jobs. For the staffing industry, COVID-19 was a force that pushed it decades into the future.
Pandemic Accelerated the Pace of Change, Mandating Technology Adoption
Though some staffing agencies had adopted technologies such as ATS, it was very sporadic, and definitely, using technology was not a necessity. Thought leaders in the staffing industry had been prophesying about how staffing agencies would have to adapt technology and automation or risk becoming obsolete, but it was easier said than done.
It was not just the staffing agencies that decided whether they wanted to shift operations online, candidates and enterprises had to agree to use these online staffing platforms too. The low adaption of digital platforms for recruitment was also due to the reluctance of candidates or talent (potential hires) to use video interview tools, phone screening tools, and online assessments.
But all that changed almost overnight when the pandemic forced lockdowns across the globe. With no way out, everyone had to shift operations online- the recruiters and talent included. With businesses going out and employees getting laid off at a rate comparable to or surpassing the 2008 financial crisis, candidates had to agree to online screening tests, video interviews, and skill assessment tests.
Many were still reluctant to accept that recruitment processes had undergone a permanent change. They hoped that things would go back to face-to-face interviews and more experience-based hiring. The inertia to change was mostly due to the fact that the word 'test', was something that still reminded most candidates of school and college exams and thus induced fear.
What the future holds for the staffing industry?
Shifting of Operations Online- Permanently!
Industry trends and the efficiencies brought on by the adoption of technology and digital platforms to carry out staffing operations suggest that it is very less likely that things will go back to how they were pre-covid.
I think that the staffing industry will change in the future because of the digital increases we have seen over the last year. We have to remember that the world will not go back to normal just when the pandemic ceases to exist. Digital capabilities and those in the industry should want to hang on to this, alongside more traditional methods to please all types of customers in any way they see fit.

Brett Downes, CEO of HARO Helpers
Staffing agencies will have to find a balance between adopting technology to drive efficiency, and meeting client expectations. However, with more tech-friendly talent joining the working population every day, businesses will have to shift operations online.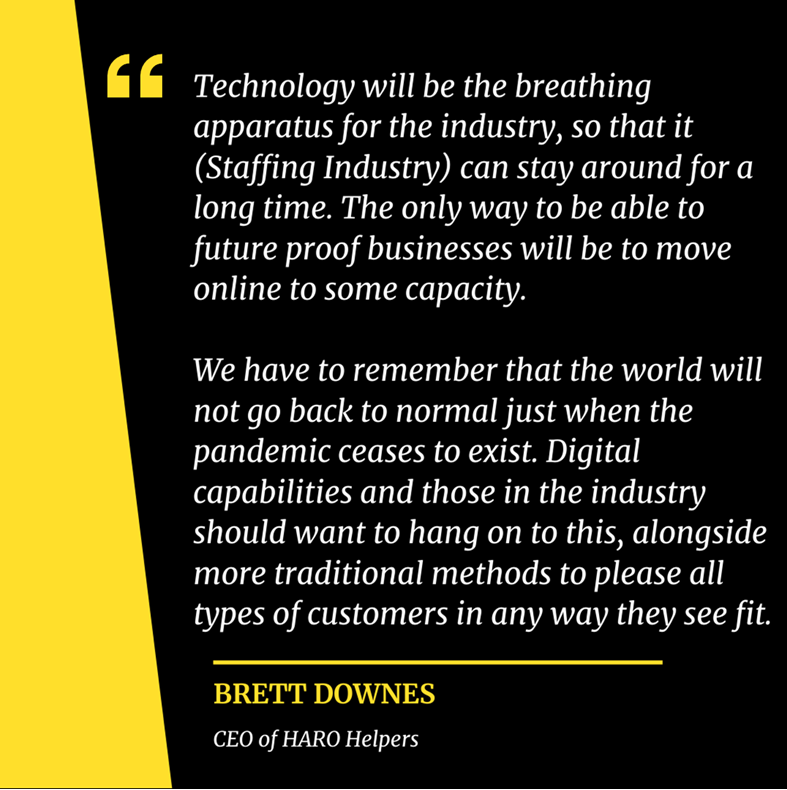 The increase in remote work is something else staffing agencies will need to contend with moving forward. Often when hiring remote temporary staff, the initial impulse is to turn to freelancer and contract worker marketplaces rather than traditional staffing agencies. It is to the benefit of staffing agencies to incorporate a remote worker element to keep up with this shift in demand.

Darrell Rosenstein, founder of The Rosenstein Group
As for the role that technology will play in staffing industry transformation, Darell adds,
Increasing automation has been the most consistent trend over the past few years, and I foresee that continuing in the future. The use of AI and learning algorithms in candidate screening and placement has made it much more sophisticated and useful for today's recruiters, hiring managers, and staffing agencies.. This enables more efficient review and organization of candidates, and if used correctly can allow agencies to expand their operations and place more workers in positions without needing to increase their administrative staff.
Redefining Cultural Fitment
Cultural fitment used to apply to only employees and not employers, just sometime back. It used to imply that candidates that are not aligned with a company's culture are not an acceptable addition to their workforce as the cultural clash will impact their performance and harm the work environment.
But all that is changing fast. Today, the term 'cultural fitment' applies more to businesses than talent. Companies are expected to have a working environment where diverse people feel comfortable working and progressing in.
According to Darell, one significant change that staffing agencies will face in the future is the increased emphasis on cultural fit and employee values. While some temporary and contract positions will continue to be hired mostly on the basis of skill and knowledge, staffing agencies are increasingly being called on to consider the cultural fit when placing candidates, especially in positions that have the potential to become long-term full-time positions.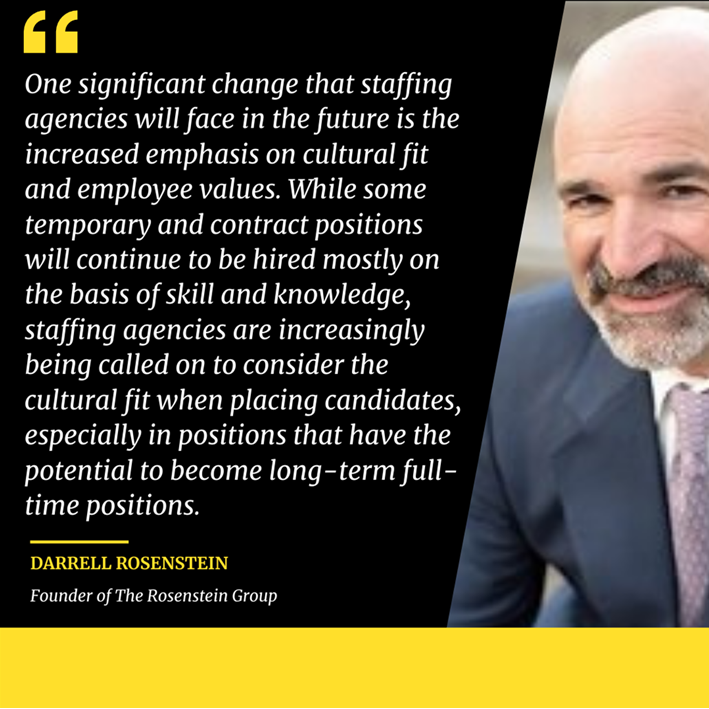 DEI and valuing talent could be the biggest way the staffing industry could be disrupted in the future.
What could potentially disrupt our industry is shifting the focus to the talent as being the client. The war for talent is back on (at least in many regions of Canada) with many companies frustrated by the challenge of being able to identify top-shelf talent. Without talent, even in retained search, we are not going to get paid. The talent IS the client. Another huge game-changer could be the increase in DEI recruitment. Staying close to diverse talent, women in STEM, etc is a very attractive service offering for many Fortune 500 companies. Auditing the talent, we put forward to ensure that they have felt well-supported and providing them with tools and resources even when they don't get hired by our clients right away, reaps tremendous rewards.

Samantha Bateman, Director, Talent Acquisition & Training at Conseil Integria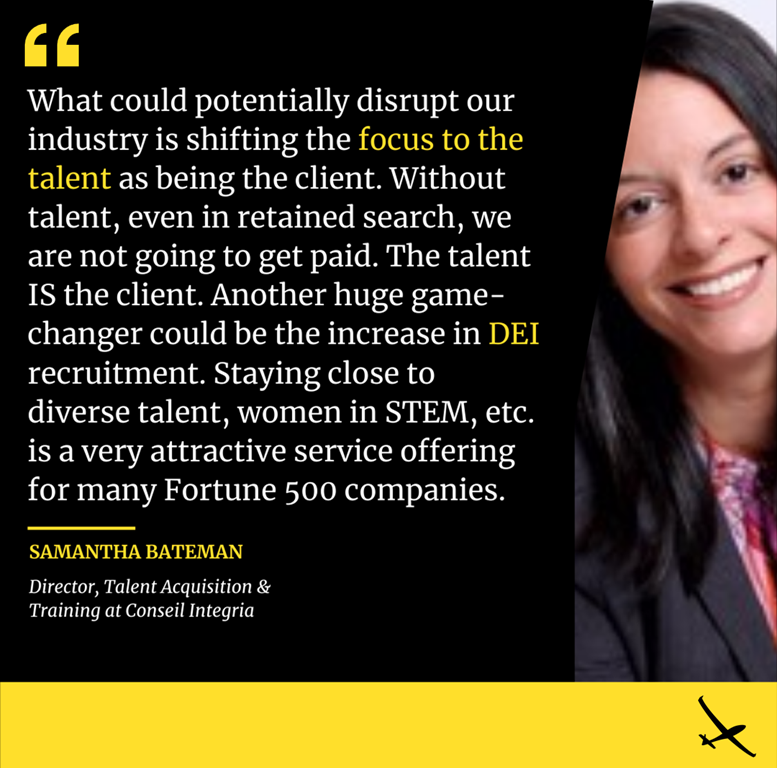 Staying Updated with Usage and Understanding of the Latest Recruitment Technology Will Ensure Future Readiness
In the past 1 year itself, the staffing industry has gone from 'beginner' in technology adoption to 'proficient'! Staying in with the times is of utmost importance to futureproof their business in the staffing world.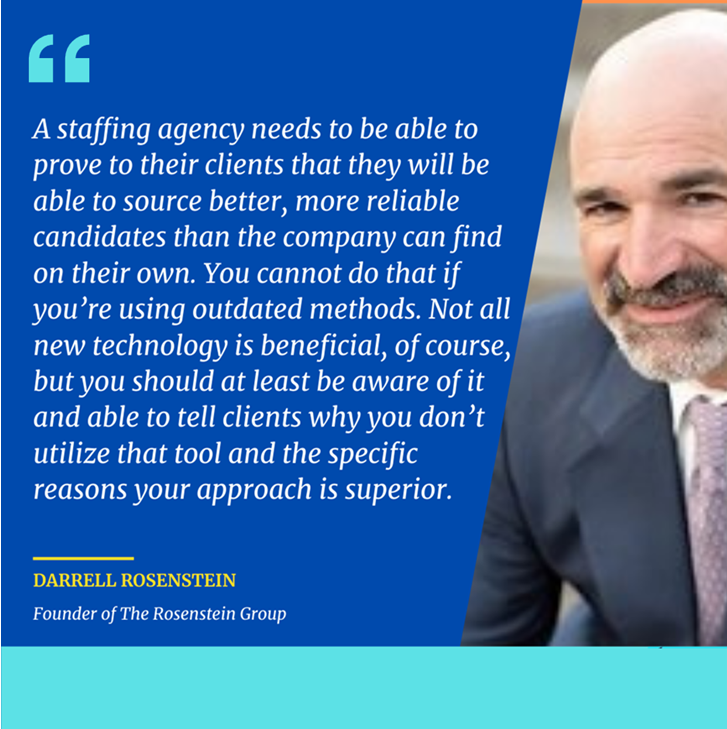 Darrell adds,
Stay on top of the shifts and trends in recruiting practices and technology as they develop. A staffing agency needs to be able to prove to its clients that it will be able to source better, more reliable candidates than the company can find on its own. You cannot do that if you're using outdated methods. Not all new technology is beneficial, of course, but you should at least be aware of it and able to tell clients why you don't utilize that tool and the specific reasons your approach is superior.