Why Hire an Experience Designer? 
Do you know that every year we celebrate World Usability Day? The second Thursday of November is exclusively dedicated to educating the people about the products around us. Interesting, right?
As a role, an Experience Designer (XD) also does more or less the same in their job. The human-centric approach of XD derives insights from users' needs and experiences to design a product's features and interactions.
On that note, Wikipedia defines it as a practice of product design, processes, services, events, omnichannel journeys, and environments with a focus placed on the quality of the user experience and culturally relevant solutions.
Why do businesses hire Experience Designers? Look at the math. A Forrester study reports that UX returns $100 for every one-dollar investment – an RoI of a massive 9900%!
Businesses are hiring UX candidates to remain competitive. As per InVision's survey, 70% of the HR managers have expanded their design (UX) team to remain competitive in a post-pandemic world, while 81% of the UX candidates said that recruiters contact them every month.
What is an Experience Designer?
As an Experience Designer, you define the touch points of a product or service and how users and external factors will access, interact with and manipulate information. The end-user can be a user or customer or even an employee.
Experience Designers design any experience, or new products, and develop marketing communication and even workplace policies for a better employee experience.
While user experience is the focal point, Saiful Nasir, Director of CXD Labs explains,
"An outstanding Experience Designer considers a holistic experience of customers, users, employees, the public, and partners to strengthen the social perception of brands."
Why are Experience Designers in High Demand?
Experience Designers are not just problem solvers but create meaningful experiences. The field is naive, but the demand is growing exponentially, especially in the areas of customer satisfaction, employee engagement, cultural learning, etc.
Take for example, how Airbnb highlights the role of the Staff Experience Designer. Applicants should be able to prioritize and build beautiful, usable, and forward-looking products that empower people.
Job portfolios must be rooted in trauma-informed, inclusive design principles focused on usability and accessibility.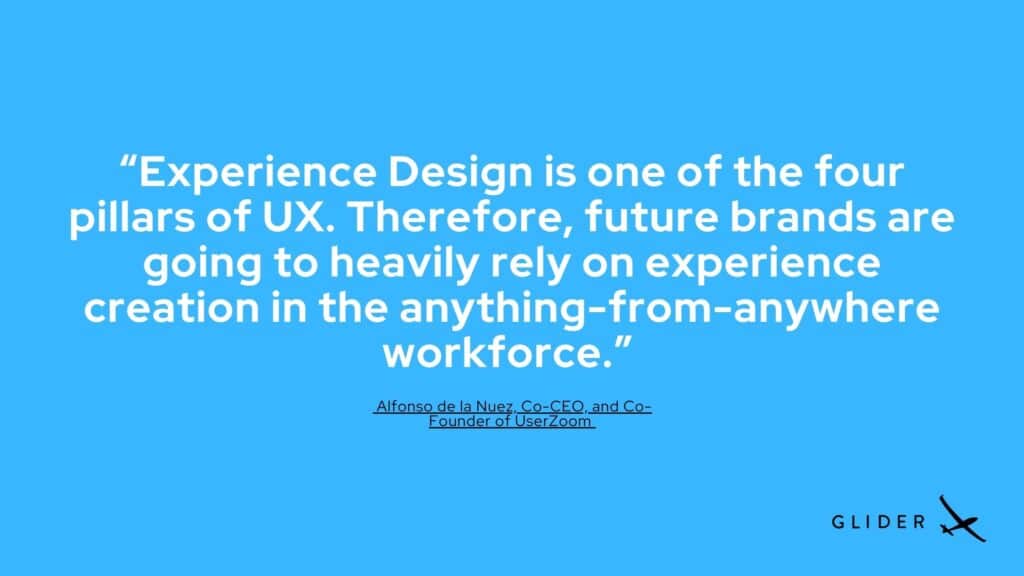 The U.S.Bureau of Labor Statistics predicts the growth of the Experience Designer job market by13% through 2030.
Recommended Read: Top 50 Tech Skills and Tech Roles in 2022
Average pay for an Experience Designer
As per Glassdoor estimates, the national average for an Experience Designer salary in the USA is $1,04,152 per year.
Experience Designer KPIs
Do you know that two types of frameworks measure the work outcomes of an Experience Designer? They are
Aspirational (Self-assessment) 
Here are the common KPIs that help you figure out your XD performance:
Task success rate
Time on task
Use of search vs. navigation 
System Usability Scale (SUS) 
Customer Satisfaction (CSAT) 
How can Glider AI help you with Hiring an Experience Designer?
Glider's recruitment platform is built on the mission, of "competency over credentials". This way, you can make the most of the hiring assessments through a structured and data-driven candidate-evaluation process.
Glider AI's Unique Features
Conversational Chatbot for Talent Screening
Interactive, coding-enabled skill tests
Powerful candidate analytics 
Discover Hiring Resources for Experience Designers
Experience Designer Job Description
Experience Designer Interview Questions
Experience Designer Skills Test
How to Hire an Experience Designer
Access 2,000 pre-built assessments covering over 500 skills with 250,000 questions, all validated by 2,000 SMEs including this for the Experience Designer role.  
Go ahead and spotlight your Experience Designer with Glider AI today!
You can always write to us at info@glider.ai to help you access the hiring resources.