The rise of contingent workers has been flourishing since the start of the century. As per CNBC, the contingent workforce has added six million people since 2010 and it is still expanding.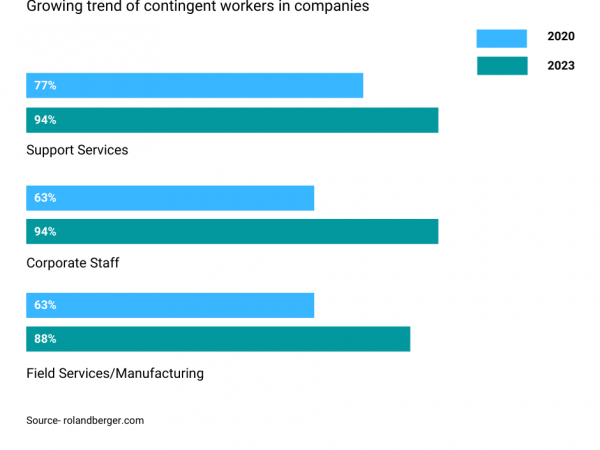 Though contingent worker meaning remains the same, but the challenges in hiring them have increased. Some of the challenges in contingent staffing are:
Getting the best talent.
Going beyond the CV.
Filling up a large number of positions in a short period.
Staying within the budget.
Managing a large talent pool.
There are a lot of challenges. But, the question is-
How can you overcome these challenges of contingent staffing?
Technology To The Rescue
With remote hiring tools, advent of AI and ML, a lot of hiring processes can now be automated to reduce manual effort. Thanks to video interview platforms, it now takes shorter time to schedule and carry out hiring rounds, evaluate candidates and share feedback to take the final decision.
With respect to talent screening, use of tools such as One-way Video Interviews is becoming popular to expedite the hiring process, improve candidate experience and candidate assessment to increase hiring conversion rate and quality of hire. Many employers are leveling up their games. They are transitioning away from the traditional ways of hiring when it comes to contingent staffing. A majority of organizations are transforming their contingent staffing practices through one-way video interviews.
How Can One-way Video Interviews Help in Contingent Staffing?
During contingent staffing, it is often seen that recruiters select candidates to move on to the next stage based on their impressive CVs. This occurs mostly because recruiters have to select a large talent pool in a short amount of time. But, this method often leads to bad hires and ultimately, results in company loss.
Interviewing contingent workers means that you should have a good knowledge of the candidates' competencies and personalities. You are hiring them for a specific purpose and a limited amount of time. Thus, your prospects should be prompt and able to deliver to the needs.
One-way or asynchronous video interviews are beneficial because they provide more information about the candidates than any other traditional interviews. They allow you to assess the candidates' body language and speech, along with the overall mentality. These video interviews streamline your contingent staffing process.
You can accumulate the pre-screening process, panel interviews, and group interviews into this one method, saving you a lot of time and money.
Let's have a look at all the benefits that one-way video interviews provide in contingent staffing.
Benefits of Talent Screening Using One-way Video Interviews During Contingent Staffing
1. More effective in bulk-hiring
With a single email or text, you can invite a large volume of candidates to participate whenever it works with the schedule. You can save yourself from calling the candidates individually and can simply send bulk emails to the candidates at a single click.
You just have to evaluate the candidate videos afterward at any time. There is no hassle and it sure saves time for both the parties.
2. Easy screening process
With one-way video interviews, the whole team can evaluate all the candidates on demand. The screening process gets speeded up and you can take out any bias. With job-relevant screening technology, pre-recorded video interviews can be configured down to the job level, so you have control over the questions to be asked, and the timing of the process.
Moreover, candidates can present themselves beyond their resumes. You can gather more data and undertake better decision-making.
3. Budget remains intact
Contingent staffing can quickly turn your recruitment expenses upside down. With not much money to waste, you may choose risky shortcuts, resulting in bad hires and company losses.
One-way video interviews allow you to increase the number of candidates for interviewing while staying within the company's budget. This balance between the budget and the hiring process creates space for you to undertake contingent staffing more effectively.
4. Talent pool is expanded
One-way video interviews offer more and better available talent into your pipeline, even for on boarding contingent workers. Since there are no limitations regarding the time or place, you lower the risk of missing out on high-quality candidates.
These video interviews give you the power to provide the best contingent hiring experience to the candidates. You can also create a talent pool of screened out candidates for future positions.
Glider's One-way Video Interviewing Platform
Glider provides asynchronous video interviews that relieve you of all the hassles and make your contingent staffing process fast-paced and cost-effective.
You can provide a better interview experience to your candidates and take unbiased decisions with our pre-recorded video interviews. Our one-way video interviews are equipped with all the features you need to find the best fit for your company.