For businesses to thrive, sales management has to be to the point. Slashing sales is the key to generating revenue for the company and making sure that there is a constant rise in the profit margins. But to ensure that the sales force is working meticulously and the company is maximizing the profit, hiring a sales person or a robust sales manager needs to be substantial.
According to Philip Kotler, "Marketing or sales management is the analysis, planning implementation, and control of programs designed to bring about desired exchanges with target markets to achieve organizational objectives. It relies heavily on designing the organizations' offering in terms of the target markets needs and desires and using effective pricing, communication, and distribution to inform, motivate, and service the market."
The sales manager must provide strong leadership to the sales force and work with the team to create a win-win scenario for both the company and the customers.
This blog is the guide to hiring the sales manager. We shall give you an idea about hiring sales manager"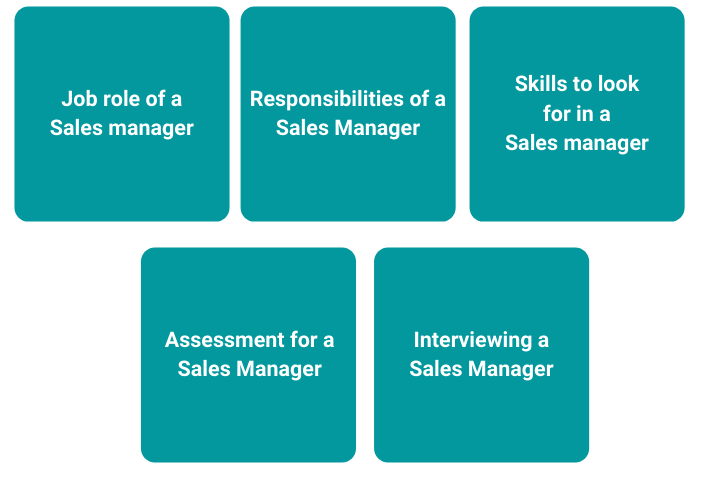 Job role of a Sales Manager​
Sales managers are the drivers of the company's revenue system. The sales manager is responsible to reach the growth targets but also make sure that the company doesn't go off track. The individual has to maintain innovation and effectiveness while dealing with the customers.
Recruiters need to ask themselves what to look for when hiring a sales manager.
Do they need an average sales manager who just generates the revenue or do they need an excellent and efficient manager who not only generates the sales for the company but also leads and nurtures the sales team?
Many leading firms and companies believe that a perfect sales manager is one who can perform these three roles.
People manager: Lead and nurture a team.
Customer manager: Deliberately stimulate customer engagement.
Business manager: Foster the business revenue.
Responsibilities of a Sales Manager​
Achieving revenue targets being the chief responsibility for a sales manager, there are numerous responsibilities that he has to perform. Though, responsibilities may differ from company to company. They may have their own set of responsibilities based on the requirements. But some are common everywhere.
The following are the KRA or Key Responsibility Areas of a sales manager:
Guide under performing sales representatives and help them increase their efficiency.
Plan an upgradable sales process and ensure that the team sticks to it properly.
Ensure that the team uses sales techniques and tools properly.
Strategically implement team efficiency meetings and hold skills training.
Plan and preside over every sales team meeting.
Set performance goals for the reps to achieve within a period.
Review the team based on their performance every month.
Be a good example for the team.
Perpetuate customer relations by understanding their needs.
Settle customer issues and complaints with empathy.
Have a strong command over the pricing plans and other budgetary issues.
Establish plans to attract new clients.
Track the team metrics and convey them to the higher management.
Analyze the sales statistics and find ways to improve the shortcomings.
Work along with the marketing team to generate new leads.
Keep tabs on the newest trends in the market and implement them in the business.
Skills to look for in Sales Manager​
Fostering the sales force and managing the overall sales function with great expertise requires a lot of dedication and a hunger for an upgrade. The position needs a tremendous amount of responsibilities and thus, recruiters must hire someone who has the zeal and the capacity to take on the responsibilities and lead the team strategically, resulting in the company's progress.
A person with an MBA or degree in business management or administration is considered a potential candidate for the position of sales manager.
Apart from academic prowess, here is a graphical representation of all the skills that recruiters should look for in their ideal sales manager.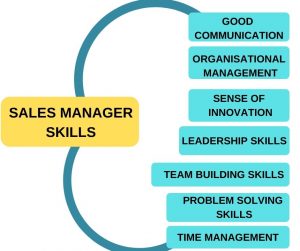 Assessment for a Sales Manager​
Assessing a sales manager to evaluate the prowess regarding the requirements is important. Important traits of a sales manager should cover the following four sections:
Critical thinking.
General Aptitude.
Sales Knowledge.
A person who is found to be eligible in these four sections is considered an ideal sales manager. Recruiters must ensure that they examine the candidates through all the sections to generate the desired results.
Our platform, Glider.ai provides Sales Manager Assessments that help the recruiters examine and select the best talent, right for the role, and can fulfill all the responsibilities as per requirements. The assessments ensure that the candidates are evaluated through all the sections under a fully proctored and unbiased environment.

Our tests are useful for all sales management roles. The tests help identify the shortcomings in the sales department and provide a pool of talent for overcoming the gaps.
Interviewing a Sales Manager​
Recruiters should have an idea on must ask questions in a sales interview. According to famous job portals such as Indeed and LinkedIn, these are some of the most asked questions in a sales manager interview.
Tell me a little bit about yourself.
How did you hear about this position?
What is your educational background?
Where do you see yourself in five years?
What would a friend say is your biggest weakness and how would you improve it?
What has been your greatest achievement?
What about this company interests you?
Why are you leaving your current position?
When were you most satisfied with your job?
What do you like most about sales?
What do you dislike most about sales?
Describe your selling style.
How would you manage a team and manage your schedule?
What is the greatest success you've had with sales?
What qualities make a great sales manager?
Describe your worst working day. What did you learn from the experience?
How do you motivate your team?
What is your philosophy in making the sale?
What is your leadership style?
Explain your experience with sales management.
How will you approach different personalities on your team?
Are you comfortable with data analysis and how have you used it?
What do you think would be a successful rep coaching session?
Tell me about a time you failed to meet your sales goals and how did you handle it?
How would you describe to an outsider what we do at this company?
What motivates you?
Why do you want the sales manager position?
Why should we choose you?
All in all, the role of a sales manager is an important part of the company's overall success and recruiters must be cautious when it comes to hiring one.