Over the decade, we have witnessed the rise of video interviewing technology. The vast array of developmental technology in recruitment has swooned us all and it has a long way to go.
The inclination toward technology has made the company culture more impressive as well as positively overwhelming. As per Deloitte and Bloomberg, the entire HR software market is now worth over $15 billion, and is one of the fastest-growing technology sectors.
Recruitment processes have also enhanced over the years, building up efficiency and effectiveness. Video interviewing boosts the recruitment results more than ever before. That's why it is being constantly developed to assess the best talent in the job market.
But with the variety, the competition has also increased. As a recruiter, choosing the best tool for video interviewing has become more difficult than ever before.
What is video interviewing software?
How do you select the best video interviewing tool?
What are the criteria that you should consider?
Well, we are here to answer all your questions. Keep reading this blog and find out.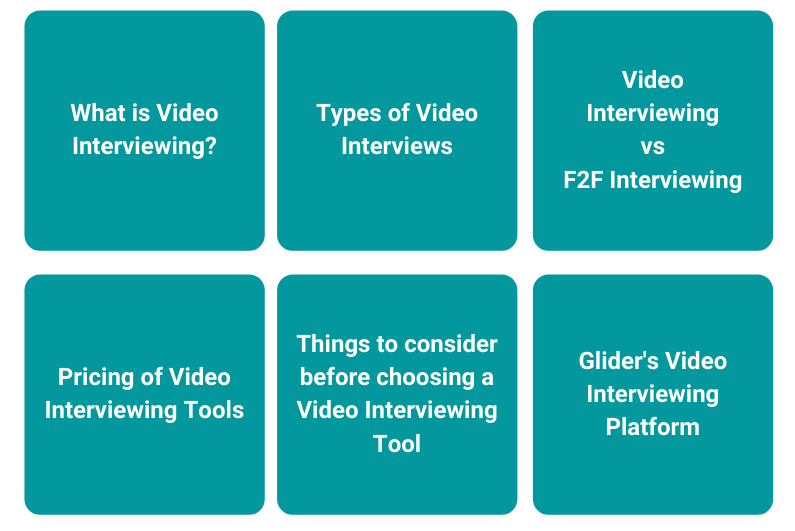 What is Video Interviewing?
Video interviewing is a method of conducting digitally-enhanced interviews on online platforms that allows companies to conduct personal interviews remotely across the globe in a scalable and efficient manner.
Video interviewing helps in easing the candidate selection process and provides accessible evaluation data to provide a well-rounded profile of an applicant.
This type of interviewing is more convenient and more cost-effective as compared to face-to-face interviews.
Types of Video Interviews
There are three types of video interviews:
One-way Video Interviews
One-way video interviewing is also known as on-demand video interviewing. This interview technique helps you to get a clear understanding of the candidates during the hiring process.
In this format, the questions to be asked can either be presented in a text or video format. Candidates can respond to the recorded questions within the set time. The recruiter may assess the candidates' responses at his convenience.
One-way video interviewing is great for remote interviewing. The factor of different time zones gets nullified in the process.
Two-way Video Interviews
Two-way video interviewing allows both candidates and interviewers to interact with each other in real-time.
Two-way interviews are very much effective and are a great alternative for physical interviews.
Coding Video Interviews
Coding interviews are problem-oriented, technical interviews used to assess candidates for technical positions.
These interviews help assess the technical prowess of candidates based on the company's requirements.
Glider provides a coding video interviewing platform where the candidate and the interviewer can corroborate their coding during the interview, making the process more interactive and efficient.
Video Interviewing vs Face-to-Face Interviewing
It is an undeniable fact but, face-to-face interviews are becoming outdated with every passing year. Video interviews are a must in 2022. The new interactive assessment method is gaining a solidifying platform in the recruitment business.
In one of her blogs, Monique Mahler at InterviewStream quotes, "Video interviewing software isn't just a convenient piece of technology, but instead a necessity for success in today's hiring climate." We couldn't agree more.
One of the core limitations of a physical interview is that it is both time and cost-consuming. Interview slots are subject to cancellations that provide bad candidate experiences.
Furthermore, the process is costly for the candidate as well. If a candidate applies for a job in a different state or a different country, then traveling from one location to the other demands high-cost. Employers are replacing face-to-face interviews with video interviews to make the recruiting process more cost-effective and less time-taking.
Video interviewing is also transparent and are used as alternatives for phone screens. According to Glassdoor, phone screenings add up to 8.2 days in the whole process. This conversion helps recruiters to narrow the candidate pool and further process only those who satisfy the requirements.
Pricing of Video Interviewing Tools
Video Interviews are available in various models:
Pay per interview
Pay per job
User license
Enterprise license models.
Smaller companies typically use the pay per interview or job model that has the price of around $10.08 (Rs.740) per interview or job, while larger organizations use user licenses or enterprise licenses.
User licensed software prices depend on the number of recruiters active on the platform. The price range is between $408.37-$953 (Rs.30000-70000) per month per user.
The price of an enterprise licensed video interviewing model depends on the organization and the proportion of employees in that organization. It may vary from $4.08-$9.53 (Rs.300-700) per month depending on the requirements.
Things to consider before choosing a Video interviewing Tool
Easy user experience
The user interface must deliver a world-class and seamless candidate experience with no hassle. A complex platform will create confusion, ultimately leading to bad results.
Variety of features
A platform rich with features makes the process more efficient and productive for the recruiter as well for the candidate. Features such as in-built scoring systems, note-taking mechanisms, talent pool,etc., help in making the experience better.
Additionally, an alternate mobile app also adds a better reach to the platform. Since smart phones are used in abundance, this feature will come in handy.
Regular upgrade policies
All SaaS products get upgraded now and then. You need to check the new upgrades and clarify if those upgrades will benefit you in any way.
It is better to check in with the service provider before spending any money on useless upgrades.
Branded platform
A strong organizational brand helps in achieving a 43% decrease in cost per hire and drives 2x the amount of applicants per job compared to other companies with lower brand visibility.
A branded video interviewing tool will help you in creating better brand visibility for your company.
Integrated video screening
An automated and video-enhanced screening process will fast pace your screening process and also make the candidate pool better.
With time, the screening process may be negated, but for the initial stages of the process, screening has to be undertaken.
Reliable video interviewing tool
Since you will be using a product, it is important to check the reliability and validity of the platform. For example, you should know how video interview helps with compliance. As a client, you should check the legal policies and the subscription policies of the service provider.
Ensure the legitimacy of the provider and bring forward any issue that seems illegitimate.
Existing client list
An extensive and decorated client list speaks to the popularity of the provider. You must research the existing client list and if possible, connect with the previous customers. Also, you should what mistakes should not be made in video interviewing.
Integration with ATS or other HR systems
Integration between systems has many benefits including time-saving when coordinating video interviews with data held within an ATS. It is important to ensure that the platform gets integrated with your existing ATS or ERP.
An integrated platform helps in creating an easily accessible talent pool for future recruitments.
Glider's Video Interviewing Platform
Glider provides a range of products that help in making your recruitment process more efficient and better productive. The services provided by Glider are as follows:
Benefits of Glider video interviews
Step-by-step guide for screening candidates.
Easy filtering out of unqualified candidates.
Standardized screening with on the job training for recruiters.
Interactive assessments: You can evaluate a candidate's skills, personality, behavior, etc., with the pre-built interactive tests. The platform facilitates you to remote proctor the candidates and tests their skills using real-life assessments that require no manual interventions.
Glider video interviews: Glider lets you conduct one-way video interviews as well as two-way video interviews. You can watch candidates' recorded answers at your own time or conduct a remote two-way interview.