Why Hire a DevOps Tester? 
DevOps and Testing have been best friends for a long time. In fact, Continuous Integration (CI) and Continuous Delivery (CD) are closely combined with automation testing (DevOps).
DevOps testing is a critical opportunity for faster releases with a focus on QA (Quality Automation).
The demand for DevOps Testing professionals has surged as enterprises are shifting from agile to DevOps to Continuous Delivery. DevOps testing these days focuses on automating testing processes to ensure seamless and effective software delivery.
Generally, they are hired in those organizations that have dynamic release cycles and uphold QA testing across all stages. But, finding quality talent for the DevOps Testing role can be daunting if you don't have an extensive skill evaluation-based hiring process in place.
What is a DevOps Tester?
A DevOps tester role is different from a traditional testing role. They are in charge of transferring fresh QA development code into the production environment along with the DevOps teams.
Most of their skills and expertise are leveraged in test automation and test strategy definition besides finding the test scope as well.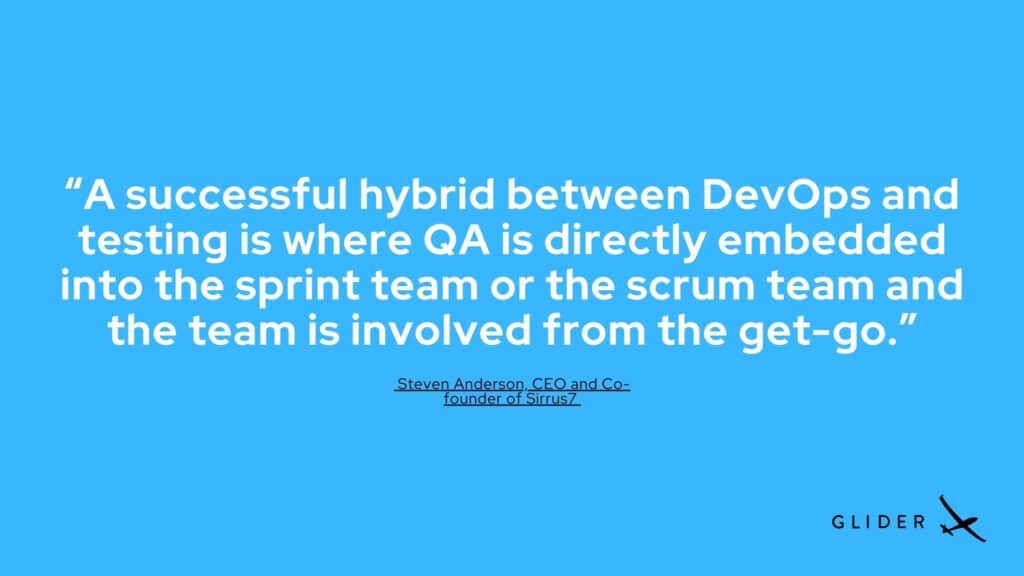 Why are DevOps Testers in High Demand?
DevOps philosophy is rapidly being adapted for testing. DevOps' secret ingredients lie in test-driven development approach and continuous testing in many organizations, says Erica Chickowski, Business and Technology writer.
In her exact words, "DevOps Testing has always held responsibility for the care and feeding of the tests in a majority of cases."
Secure Technology Leader and Research at New Context, Andrew Storms notes that DevOps Engineers have always been performing testing since day one. They won't pass a function until it is without errors. In this sense, DevOps have been testers in reality.
According to an industry analysis by Grand View Research, the DevOps market size is expected to grow annually by 18.60% by 2025.
Average pay for a DevOps Tester
As per Glassdoor estimates, the national average salary for DevOps Testing in the USA is $1,05,428 per year with an added compensation between $2,573 – $30,357.
DevOps Tester KPIs
Automation Script Effectiveness 
Automation Execution Time 
How can Glider AI help you with Hiring a DevOps Tester?
Glider's recruitment platform is built on the mission, of "competency over credentials". This way, you can make the most of the hiring assessments through a structured and data-driven candidate-evaluation process.
Glider AI's Unique Features
Conversational Chatbot for Talent Screening
Interactive, coding-enabled skill tests
Powerful candidate analytics 
Discover Hiring Resources for DevOps Testers
DevOps Tester Job Description
DevOps Tester Interview Questions
DevOps Tester Skills Test
How to Hire a DevOps Tester
Access 2,000 pre-built assessments covering over 500 skills with 250,000 questions, all validated by 2,000 SMEs including this for the DevOps Tester role
Go ahead and spotlight your DevOps Tester with Glider AI today!
You can always write to us at info@glider.ai to help you access the hiring resources