Why Hire a Content Strategist?
Content Strategy is indispensable in the era of Web 3.0. As an omniscient in digital marketing, a Content Strategist should be versed in lead generation, community building, SEO,  content publication, and everything else under the roof.  Companies need them because they bring the best out of brand loyalty and customer growth. 
According to Forbes, the content landscape will emerge bigger and better in 2022 along with the company's marketing strategies. Companies should hire Content Strategists not to increase their content volume, but to determine what content drives people to them.
Why are Content Strategists leading the recruitment drive? The answer lies below:
96% of B2B buyers review thought leadership to decide on buying 
54% of the B2B leaders analyze thought leadership for key insights 
50% of the consumers look at 3-5 content pieces prior to their purchases 
34% of the firms use the internet and social media for growth and revenues 
What is a Content Strategist?
Remember how Steve Jobs launched Apple products? As an impeccable marketer, he knew effective content not only brings sales but builds much more than that. This is the essence of a Content Strategist.
"The role of a Content Strategist is to develop a roadmap for how content can contribute to achieving defined business goals"

Camden Gaspar, Content Marketing Manager at Particle
Planning is the essence of the content strategy to deliver a unified content experience across all channels and to all stakeholders.
A Content Strategist works in either of two areas (sometimes both): Front-end and Back-end. The front-end strategy focuses on the user journey and content delivery and the back-end strategy is all about looking at content as data. Therefore, it's more technical in nature.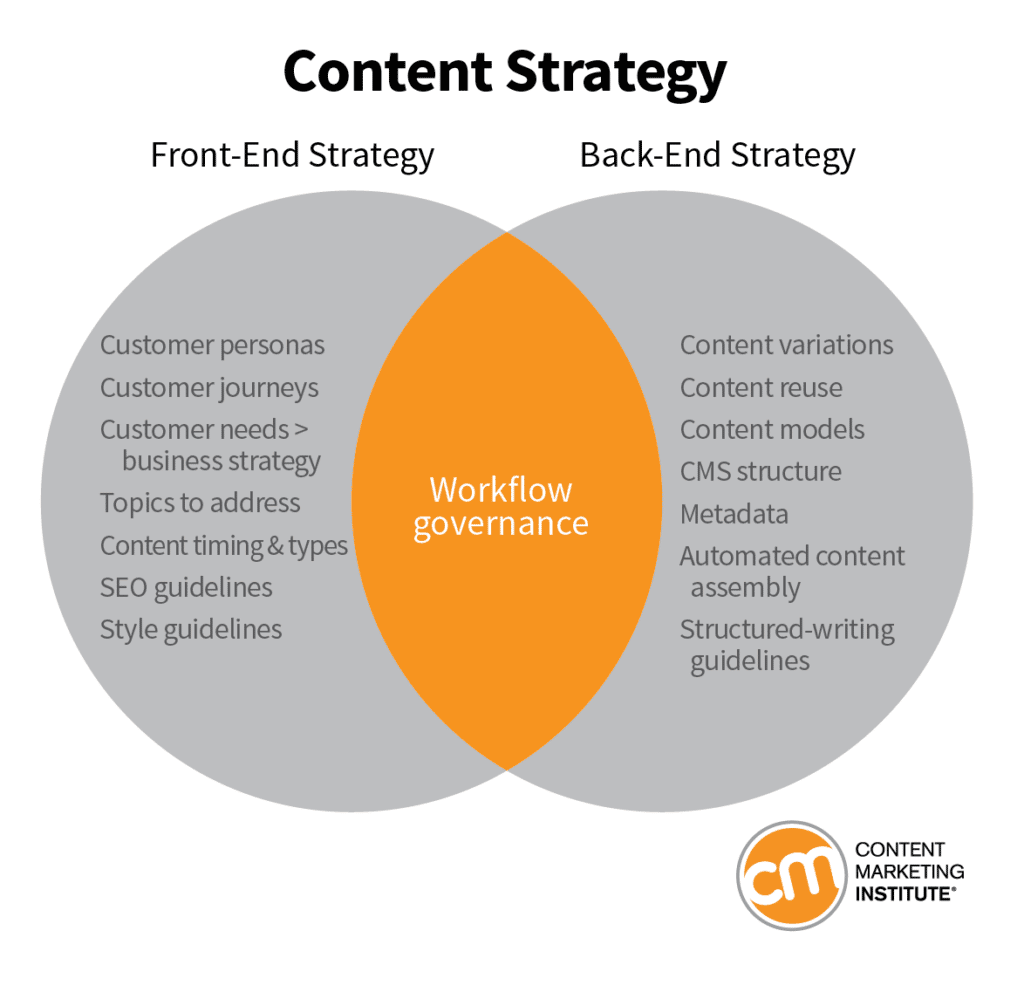 Most of the time, the role overlaps with copywriting, content writing, and SEO specialist. 
Why are Content Strategists in High Demand?
Content Strategy is the final piece in the modern business's jigsaw puzzle, says an article. An interesting research from Jungle Scout says that 43% of Americans prefer brands that have a positive role in social causes. Additionally, 58% of them said that brand activism plays a key role in their buying decisions.
According to HubSpot, Content Strategy is a must if your company is driving organic search, especially in times where SEO is changing at the speed of thought. 
In his article, Digital Marketing guru, Neil Patel also says that Content Strategy helps companies focus on their niche audience.
Further, the U.S. Bureau of Labor Statistics predicts the growth of the Content Strategist job market at 10%  between 2020 and 2030. 
Average pay for a Content Strategist
As Glassdoor estimates, the national average for a Content Strategist salary in the USA is $1,02,989per year. 
Content Strategist KPIs
No doubt, Content Strategists churn out valuable content for attracting potential traffic. But the right content won't drive results if it has the wrong purpose. 
Here are the KPIs to measure their performance quantitatively:
Content marketing pieces published per week
Sales opportunities from inbound (SQLs)
Estimated length of the sales cycle
New sales generated from content marketing
How can Glider AI help you with Hiring a Content Strategist?
Glider's recruitment platform is built on the mission, of "competency over credentials". This way, you can make the most of the hiring assessments through a structured and data-driven candidate-evaluation process.
Glider AI's Unique Features
Conversational Chatbot for Talent Screening
Interactive, coding-enabled skill tests
Powerful candidate analytics 
Discover Hiring Resources for Content Strategists
Content Strategist Job Description
Content Strategist Interview Questions
Content Strategist Skills Test
How to Hire a Content Strategist
Access 2,000 pre-built assessments covering over 500 skills with 250,000 questions, all validated by 2,000 SMEs including this for the Content Strategist role.  
Go ahead and spotlight your Content Strategist with Glider AI today!
You can always write to us at info@glider.ai to help you access the hiring resources.