Why Hire a Blockchain Project Manager? 
Blockchain as an ideology has stirred interest and investments around the world. As per Gartner, Blockchain is rapidly venturing into experimental and small-scope projects. A trend that is fully scalable by 2023.
Thanks to Blockchain, the standard 'norms' of projects are streamlined and turned into profit-generating models (with realistic limitations). In short, Blockchain project management helps businesses to complete important projects on time, with higher efficiency, and at a lower cost.
Many industry experts believe that Blockchain in PM will reduce administrative fatigue, besides increasing efficiency in workflow and faster completion of the phases. No wonder, Priya Patra, a PMI expert calls Blockchain the Future of Project Management.
What is a Blockchain Project Manager?
Do you know what's the central benefit of a Blockchain Project? That's right. Security!
As the head of every decentralized project, a Blockchain project manager is responsible for the security of the project across all phases. The role also is a liaison between developers and clients. So, you are the one-stop solution for a project's start to finish, i.e., from roadmaps development to solutions deployment.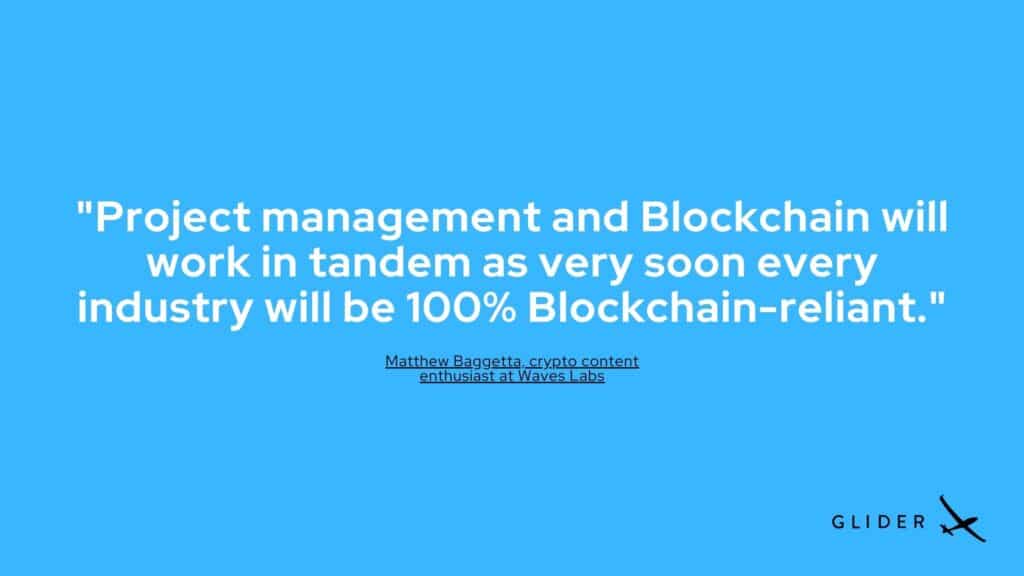 Why are Blockchain Project Managers in High Demand?
Do you know that Project managers have one of the most lucrative careers in the blockchain and cryptocurrency industries? They are hired predominantly for project implementation through multiple phases and milestones and to overcome bottlenecks.
As per Blockchain Research Institute and Brightline Initiative, the key areas where a Blockchain project manager is in high demand are:
Creation and management of digital records
Verification and reinforcement of acceptable performance 
Creation of reputation systems 
Execution of smart contracts 
As a norm, enterprises hire candidates simultaneously in project management in blockchain project management and DLT (Distributed Ledger Technology). Reason? To decentralize databases in electronic ledgers through immutable cryptographic signatures (hash).
Average pay for a Blockchain Project Manager
As per Glassdoor estimates, the average salary for a Blockchain Project Manager in the USA is $88,907 per year, with an added compensation between $1,713 – $30,013
Blockchain Project Manager KPIs
Return on Investment (RoI) 
How can Glider AI help you with Hiring a Blockchain Project Manager?
Glider's recruitment platform is built on the mission, of "competency over credentials". This way, you can make the most of the hiring assessments through a structured and data-driven candidate-evaluation process.
Glider AI's Unique Features
Conversational Chatbot for Talent Screening
Interactive, coding-enabled skill tests
Powerful candidate analytics
Discover Hiring Resources for Blockchain Project Managers
Blockchain Project Manager Job Description
Blockchain Project Manager Interview Questions
Blockchain Project Manager Skills Test
How to Hire a Blockchain Project Manager
Access 2,000 pre-built assessments covering over 500 skills with 250,000 questions, all validated by 2,000 SMEs including this for the Blockchain Project Manager role
Go ahead and spotlight your Blockchain Project Manager with Glider AI today!
You can always write to us at info@glider.ai to help you access the hiring resources
Schedule My Glider Demo Today