with Ben Walker and Chris Dwyer
Recruitment transformation is one of the key elements of change management. As a formal course of action for identifying, recruiting, hiring, and retaining top talent, recruitment strategies help win, retain & grow client business with a total talent quality.
According to financesonline, the role of recruitment is rapidly changing. For example, more than 70% of the recruiters agree that virtual recruiting is the new normal in the post-pandemic world. The data reported by Zippia also says 86% of the interviews are virtual.
But how does total talent quality recruitment strategy help grow client business? Why is it significant for a recruiter? Contingent Staffing experts Ben Walker and Christopher J.Dwyer provide answers and insights in an engaging Q and A.
What are the Top Enterprise Priorities in the Talent Ecosystem?
Christopher Dwyer: The pre-pandemic era had a notion globalized world and scaling economy. Contingent hiring priorities were around cost savings, and budget control in the past few years. However, the present mid-pandemic world is surrounded by uncertainty and talent shortages everywhere (including the great resignation or talent revolution). is very different.
Therefore, most businesses have placed agility on their prime agenda. As a top enterprise priority, we are learning how to dynamically respond to the internal and external factors affecting the business.
On the other hand, businesses must identify the gaps in their total workforce. For instance, a business might have great recruitment tools, but may fall short of indirect sourcing or building a talent pipeline. So, companies need to invest and adopt the right tech tools to fill the talent gaps.
Ben Walker: Businesses have a complex ecosystem now. We witness how agility and technology influence our customers every day. Customers use our tech tools for employee staffing, screening candidates, and even for reskilling and upskilling their internal employees.
Agility and technology go hand-in-hand in terms of integration and continuous evolution at Glider AI. They help us to identify the implications of change management and see how things are headed.
Due to the pandemic, business leaders and organizations are accelerating their workplace environment. Many organizations lack flexibility and inclusiveness. Employees look for a purpose in their work. In fact, workplace culture is one of the prime reasons for great resignation.
Also, empathy-led leadership is one of the biggest forces impacting the future of the work. Both workers and functional leaders need humanity within the work culture, even in the way we find, engage, and onboard talent, even for contingent workers.
What are the Drivers of Contingent Talent?
Christopher Dwyer: Earlier, the extended workforce was categorized as a complex job nature, because it needs specialized skills for certain decision-making.
Two reasons why the contingent workforce is in demand today:
Contingent talent does more than just plug holes or filling gaps. They make your organization more flexible and skill your workforce up and down as needed.
Besides, the early days of the pandemic have given us good lessons on talent management. We've seen how contingent labor steered many businesses through unsteady markets. Up and down skilling is always a wonderful benefit of flexible talent.
How does AI address Candidate Fraud & Talent Quality?
Christopher Dwyer: AI is augmenting workforce management specifically in the areas of worker onboarding, job location recommendations, candidate pipelining, and rate optimization.
The majority of the businesses are harnessing AI and Machine Learning to support workforce management. Data from Ardent Partners and Future Work Exchange tells us how AI supports some of the deeper elements like resume parsing, screening, DE&I, L&D, and direct sourcing.
There will be a lot of partnerships with tech companies in the coming years for measuring talent quality. Things like candidate assessment and skill verification will be augmented by AI in the next couple of years.
For example, talent fraud detection is critical for any organization. Cheating caseshave accelerated, thanks to remote work facilities. Thanks to AI, there is so much improvement in the mitigation of talent fraud risk. Glider AI has been a game-changer in this regard.
Additionally, VMS, MSP, and RPO have always been powerful entities in the talent quality ecosystem. They have become the dominant solutions and are evolving along the market side.
VMS extends functionalities like direct sourcing, hiring remote workforce, DE&I, hybrid workplace structures, etc. MSP and RPO are offering wonderful workplace solutions as well. Our team has also found that companies who adopted VMS are 60% more capable of handling talent quality than otherwise.
Ben Walker: AI must always be explained in terms of process or functionality. It brings consistency and addresses the high degree of variability in time and expenses. (due to manual processes).
Our team at Glider AI comes across cheating cases every day. We see marginal or underqualified candidates who take advantage of the system.
Our platform is continuously evolving on candidate quality management. Glider AI automates the detection of candidate assessment fraud like facial and eye movements, impersonation, etc. Currently, we are working on lip-syncing fraud detection.
There is a huge growth curve for MSP and VMS. They are pervasive and widely accepted and adopted by organizations, staffing agencies, and buying organizations alike. Businesses have been able to change their business operations, communication policies, and everything because of MSPs and VMS.
What is the State of Talent Quality across Contingent Programs?
Ben Walker: Each dot in this image is a recruitment agency. The aggregated view shows how candidates scored in the tests they took across the agencies. The upper right quadrant has a high degree of candidate volume who scored well.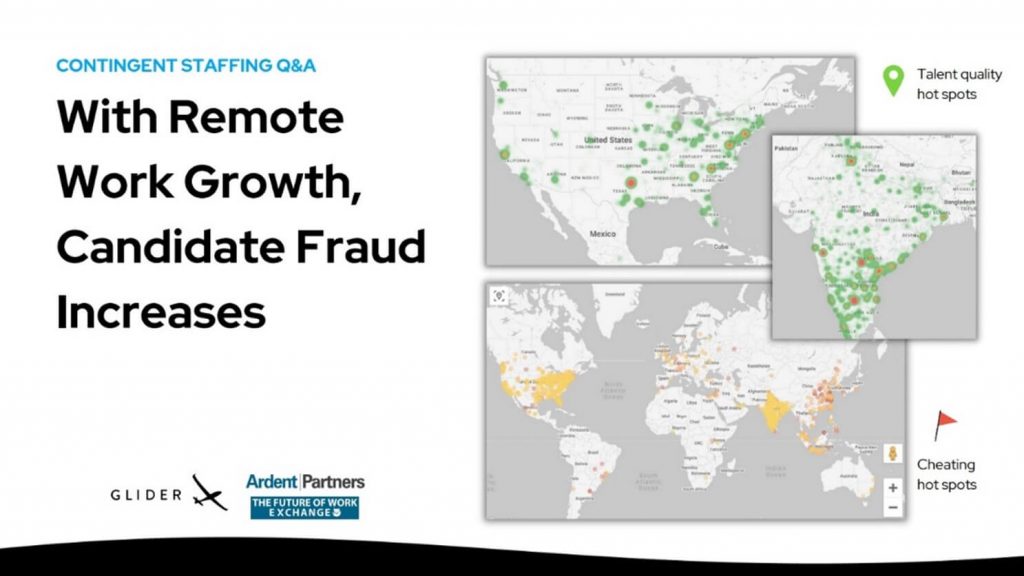 Therefore, we coach our recruitment agencies to use Glider AI to achieve remarkable competency scores. The data speaks for itself.
Christopher Dwyer: AI is leveraged on huge scales today. But, can we leverage AI to predict the future of work? This is the biggest piece of the puzzle.
For example, some workers are close to retirement and young ones are just a year or two old in an organization. AI can get us a sneak peek at the future with data examples like these.
Not only that, information from AI data points can help us predict and design new products, introduce new services, or enter new markets.
Thinking in terms of AI hybrid and digital workspaces, AI tools can help organizations in terms of employee engagement. You can learn how local culture impacts remote working employees. You can act on data insights and attract candidates to the workplace.
Ben Walker:Organizations must have a granular picture from all perspectives to decide about talent quality:
Employer
Recruitment agency, and
MSP
For example, the contingent workforce should have a satisfaction survey at the end of their assignments. Unfortunately, many organizations do not consider it. They make assumptions about competency upfront before their skills are assessed.
Educational qualifications and resumes do not correlate with competency. They are no longer yardsticks. Instead, we should focus on how much value candidates can add to the organization.
This data is a testament to how the Glider AI process streamlines talent quality for its customers. Recruitment agencies have achieved 3 times better placement rates, improved their talent quality pipeline by 67%, and there's a 50% reduction in time-to-hire.
The crux is that the talent ecosystem consists of two opposing dynamics. On the one hand, we have seen economic prosperity and on the other, hardly anyone gets a job. But today, candidates have a lot of options. They can decide what kind of job or assessment they want to take.
Glider AI allows the candidates to rate their experience on a10 point scale. They can also give written feedback on the tests taken. Based on this, we have achieved a striking 95% candidate satisfaction rate.
Audience Questions
What should we figure out about the candidates who do not score well on the competency side?
Ben Walker: Recruitment agencies should always pre-assess their candidates. Organizations get high-caliber talent who score well on the competency side. But there will be a drop in the placement rate if they do not.
What Parameters make a Successful Staffing Company? Is it Talent Quality Assessment or Client Operations?
Ben Walker: Those who recognize recruitment tests as assets or as tools to streamline, automate, and improve talent quality will certainly prosper. Recruitment agencies have centralized recruiting teams to support talent quality programs. Organizations have seen value in those programs.
Christopher Dwyer: It needs a change in thinking. Staffing companies have been focusing on churn for a long time. But the process needs to be rebooted.
How do you Automate the Contingent Staffing Process while keeping the Candidate Journey more personalized?
Christopher Dwyer: We use a VMS tool to automate a contingency workforce program. Back in the day, VMS was an e-procurement process for staffing. Now we use a true workforce solution that helps us to work and manage.
We consider both hard and soft skills, the candidate's location, culture, etc. That's why direct sourcing is embedded with VMS. They take care of talent nurture, talent collaboration, etc. They do more than just automate the process. Additionally, there's always a benefit to using Glider AI.
Ben Walker: Candidates don't necessarily want a human to always talk to them. Also, they don't need a 'one size fits all' approach. The real value of AI lies in making a personalized context without human interference.
How do you describe the Importance of Job Description Dynamic to the Talent Acquisition Team? Should it always be Skills vs Years of Experience?
Ben Walker: 9 out of 10 job descriptions are irrelevant, massive, and broad. They create a negative perception of the candidate's requirements. Instead, they must focus on key skills because that creates assessments and tests.
Christopher Dwyer: Organizations must be cognizant that a job role must perfectly fit the job description. Hence, a hiring manager must write a job description in several iterations. Only then, does it fit the role perfectly.
Are Speed Submission Programs Necessary? Can Glider AI persuade Companies that Quality is better than Speed?
Ben: We should abolish time to submit and highlight the performance metric. There is always a value in giving them a few extra days if they have found the right candidate. Change management is the key.
How can I make candidates not back out in the middle of hiring? How can Glider AI help in this regard?
Ben Walker: Streamline the process to make it as transparent as possible. Staffing companies must not differentiate between candidates and customers in terms of perspective. They must sell why the candidate must take this job.
Christopher Dwyer: Candidates must be allowed to know the hiring process journey, only then will there be fewer candidates leaving out the assessment program in the middle. Exhaustive hiring programs are difficult for both candidates and business organizations.
Do MSP suppliers also think in terms of SLA or KPIs as Quality Metrics?
Ben Walker: Candidate quality is the most important metric used by MSPs. But they need to look at the various data points, leverage their benefits, and incorporate them into a scorecard.
Have you had any Success in Enhancing Direct Sourcing Solutions with Glider AI as a Curation Tool?
Ben Walker: There's a notion that direct sourcing gets blended with pre-identified candidates. We have partnered with direct sourcing companies that perform talent curation. This helps in predicting future roles, placement rates, and qualified talent as well.
Christopher Dwyer: Over the next 2 years, at least 54% of the organizations will leverage AI, especially for talent curation.
Have you had any Success in Enhancing Direct Sourcing Solutions with Glider AI as a Curation Tool?
Christopher Dwyer: None of the workforce management activities like onboarding, nurturing, and diversity are adopted by the majority of organizations today. But there will be a spike in those adoptions shortly.
But there are barriers from key stakeholders. They should look at the current market trends and value in those.
Is it Possible to have a Mobile-friendly Recruitment Process?
Ben Walker: We have seen how the mobile-enabled recruitment process improves candidate satisfaction response rates. We have seen thousands of candidates at the top of the funnel taking assessment tests on mobile. That's why all Glider AI tests are mobile-friendly.
How can you Verify Candidates beyond Background Checks?
Christopher Dwyer: Glider AI's video screening functionality is amazing in this regard. Companies can use the proctoring function for a candidate's background assessment.
Ben Walker: We come across many assessment frauds during the hiring process like imposters etc. However, Glider AI's fraud detection can detect cheating cases at all stages of the pre-hire assessment process.
How can we Start the Automation Process for HR Transformation?
Christopher Dwyer: We may use many manual processes like spreadsheets for many activities. But it is difficult to measure quality if there is no technology or even engaging candidates. It is crucial in the current time of the talent revolution.
Ben Walker:Automation must be treated as an important initiative. It gives a methodological approach for process breakdown, cycle time, and streamlining the process. Plus, there must also be communication about the tech adoption.