Software jobs may seem easy and facile to the untrained eyes, but recruiters have to undertake strenuous research to execute a proper interview. They need to have a firm grasp of the role and the responsibilities that are required in a job role. It is a daunting job and it takes the right plan to select the right candidate.
Software engineer jobs are one of the most in-demand talents globally and almost every business needs them. It is of paramount importance that their interviews should be to the mark. Recruiters should be able to frame questions that showcase the candidates' personalities, competencies, and overall suitability for the role.
For example, interviewing a candidate for a web developer's role can be daunting, but we are here to help. In this blog, we shall cover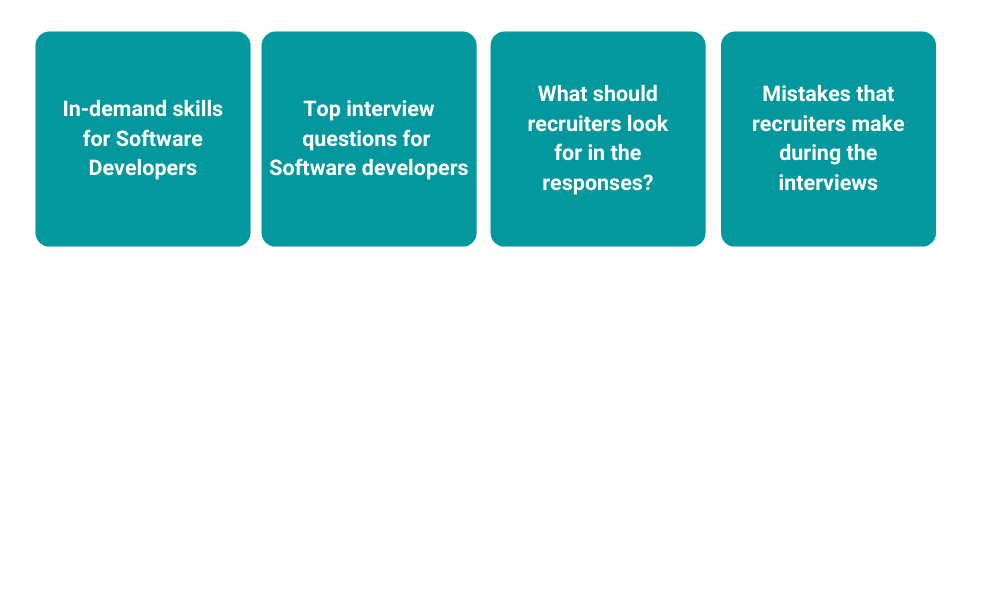 In-demand skills for Software Developers​
Whether looking for a contingent worker or a full-time developer, a recruiter must know what he wants in his employees. As the role of a software developer is a technical one, prowess in technical skills is a must. But that is where recruiters become one-dimensional. Most recruiters take interest in the technical skills for such posts and miss out on the skills that reflect the candidate's suitability depending on the prevalent work culture, especially on boarding new developers.
Software developers must possess skills that reflect their technical expertise as well as their personality and ethical viewpoints. A candidate may have all the technical qualities required for the job but may have a bad attitude. In that case, he cannot be considered as the ideal candidate as he will not be able to work with other employees.
Recruiters should know the required skills set and act accordingly.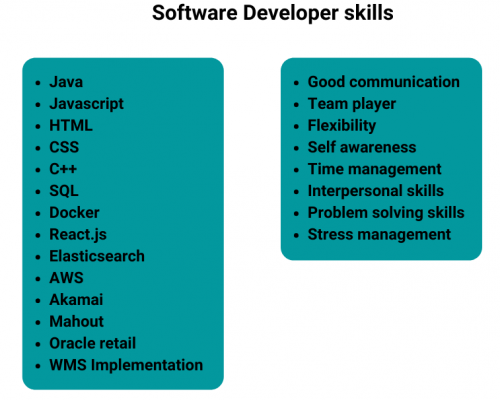 Top interview questions for Software Developers
According to guru99.com and LinkedIn, these are some of the most asked questions in a software developer interview.
What are the important categories of software?
What is the main difference between a computer program and computer software?
What is software re-engineering?
Describe the software development process.
What are SDLC models available?
What is verification and validation?
What is the meaning of debugging?
How can you make sure that your code is both safe and fast?
Name two tools that are used for keeping track of software requirements.
What is the main difference between a stub and a mock?
What language do you like to write programming algorithms?
What is computer software?
Who is a software project manager? What is his role?
What is meant by software scope?
How to find the size of a software product?
What are function points?
What are the software project estimation techniques available?
What is Software configuration management?
What are the software requirements?
What is a feasibility study?
What are the functional and non-functional requirements?
What is a software metric?
What is modularization?
What is cohesion?
What is meant by the level-0 Data flow diagram?
What is the major difference between structured English and Pseudo Code?
What is a structured design?
What is functional programming?
What is Quality Assurance vs. Quality Control?
What are CASE tools?
Which process model removes defects before the software gets into trouble?
Explain the differences between a Thread and a Process?
What is the difference between an EXE and a DLL?
What programming languages have you used in the past? What are your top two programming languages?
How much are you coding daily? If you do not code daily, what is typical in your role?
What distinguishes a great software engineer from a good one? Do you feel you have those qualities?
What's the most important thing to look for or check when reviewing another team member's code?
What are the principles of good software engineering? What are some basic principles everyone should follow?
If needed, how would you go about designing scalable applications? Walk us through your process.
What should recruiters look for in the responses?​
There are challenges in hiring software developers. Hence, recruiters should focus on certain keywords that reveal the skills and qualifications of the candidate. The questions should be as such that they evaluate the candidate's proficiency based on all the responsibilities as per the company.
According to experts, there are certain points that recruiters must emphasize on while evaluating the candidate, namely:
Programming language knowledge of the candidate.
Proficiency based on the requirements.
Ability and commitment based on the role.
Level of coding proficiency.
Capacity to think critically.
Overall fitness according to the company.
Attention to detail.
Knowledge regarding the workload and the responsibilities.
Issues on honesty and introspection.
Approach towards the company environment.
Career goals.
Creative thinking ability.
Capability to exhibit organizational goals.
Mistakes that recruiters make during interviews​
Subject matter expertise is one of the biggest factors that decide whether or not recruiters will be able to find , select or hire quality talent. But a recruiter cannot possibly have subject matter expertise in every job role who can know everything about a software developer. This is where structured and standardized competency-based interviews and hiring processes come into play.
The top mistakes that recruiters make during tech hiring are:
Asking irrelevant questions
Not having enough context on what the job role entails
Not being able to assess candidate response because of lack of tech background
Not providing candidates feedback on their performance
Not keeping the candidates informed about upcoming hiring rounds
If companies base their hiring processes on a software engineer's job specific competencies and conduct structured interviews that cover those competencies, they are already doing a better job at hiring that majority of the businesses.
But asking relevant questions is not the only hack that will ensure hiring of quality tech talent. Testing those skills live using a coding enabled video interview process that allows assessment of the candidates on real-world tech problems that software developers are likely to face on-the-job is essential to test any candidate's skill set, attitude to problem solving, ability to deal with deadlines, thought process etc., – all of which is essential to assess and predict if a candidate will be a high performer at work.
Studies show that use of coding tests, coding simulations, live coding interviews, hackathons etc., where tech talent can showcase their skill set in an environment that is familiar to them, makes the hiring process more engaging and pleasant for them, which substantially reduces candidate back out rate and prevents companies from missing out on top talent. It also leads to more thorough skill assessment and evaluation of on-the-job performance, leading to hiring of quality talent.