Glider recently upgraded its recruitment platform, becoming much more enterprise-ready. All the users can now expect some very significant changes that will make their organizations fully compliant with all the major industry standards.
The team behind the AI-powered recruitment platform continually collaborates with various experts in the legal industry, as well as with all their users, so that they can make sure everyone stays compliant with the necessary laws and regulations.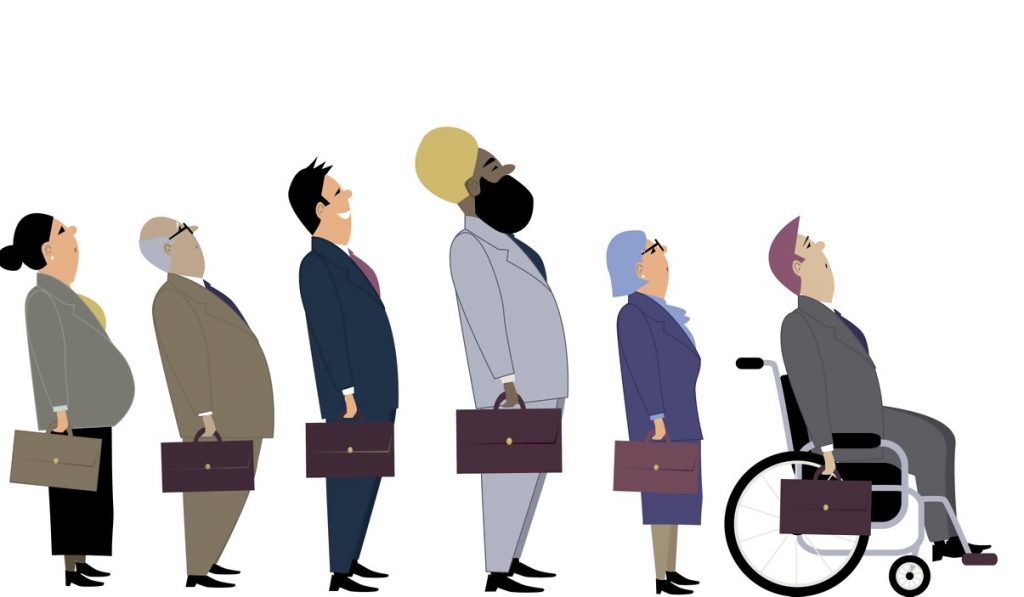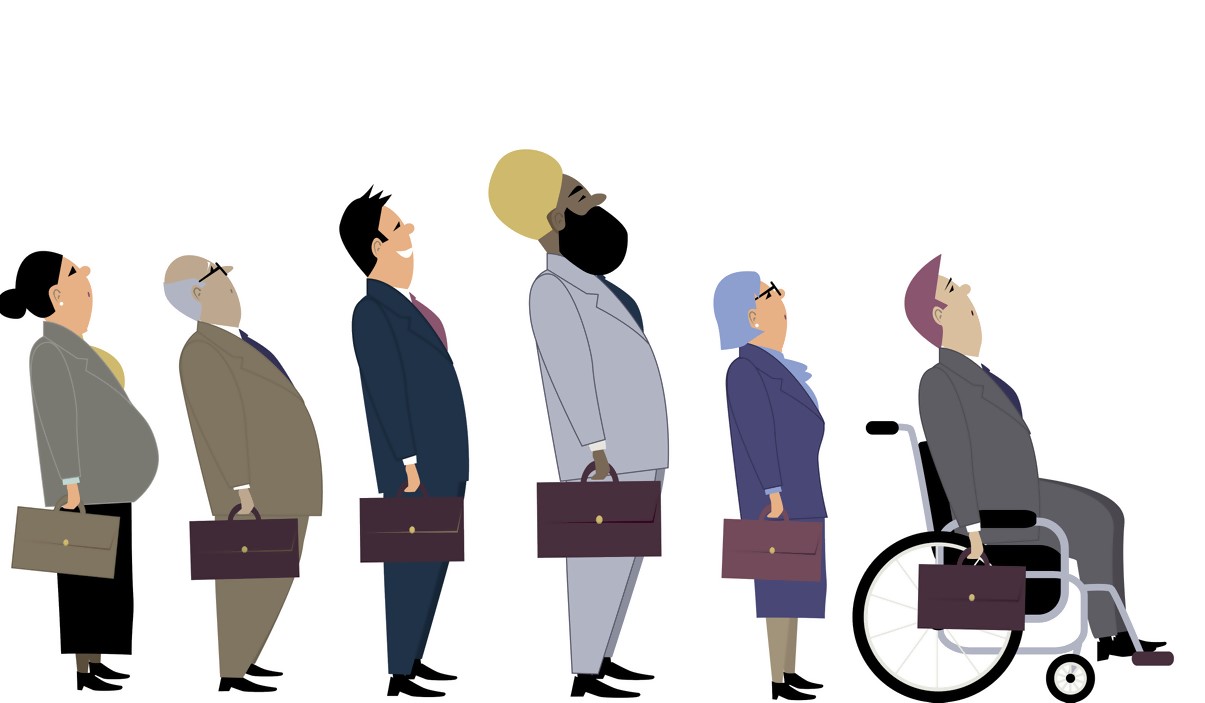 EEO Disclosure
The EEO (Equal Employment Opportunity) is part of Title VII of the Civil Rights Act. It's created for employers to comply with the EEOC (Equal Employment Opportunity Commission) law that protects employees from being discriminated in the workplace.
Regardless of an employee's gender, race, ethnicity, religion, ancestry, marital status, veteran status, sexual orientation, or physical or mental disability, they must be treated equally. This also means that their employers must give them equal work opportunities that are based only on their skill, because that is what actually matters in the workplace.
Glider now features a specific declaration page where job candidates can state their gender, race, ethnicity or potential disability, if they so choose. Completing the form is entirely voluntary.
However, if they do, Glider will keep that information completely safe and confidential. What's more, candidates' decision to disclose or not to disclose any of that information will not be considered in the hiring process or during their potential employment. No one will judge them during the interview or thereafter.
ADA Compliance
The ADA (Americans with Disabilities Act) of 1990 is a civil rights law that prohibits discrimination based on disability. It prohibits recruiters and employers from discriminating against candidates and employees in all employment areas, including the hiring process, promotions, salary, firing, and more.
This law also protects employees with disabilities from any kind of retaliation if they ever enforce their rights under the law.
In 2010, the Department of Justice (DOJ) published the ADA Standards for Accessible Design that state that employers must provide all electronic and information technology to qualified employees with disabilities, making sure the setups are accessible and properly customized to differently-abled candidates' needs.
Glider now enables its users to become fully compliant with the ADA standards. It enables qualified job candidates with disabilities to request any special accommodation for their needs, such as extending the test duration by a specific amount of time.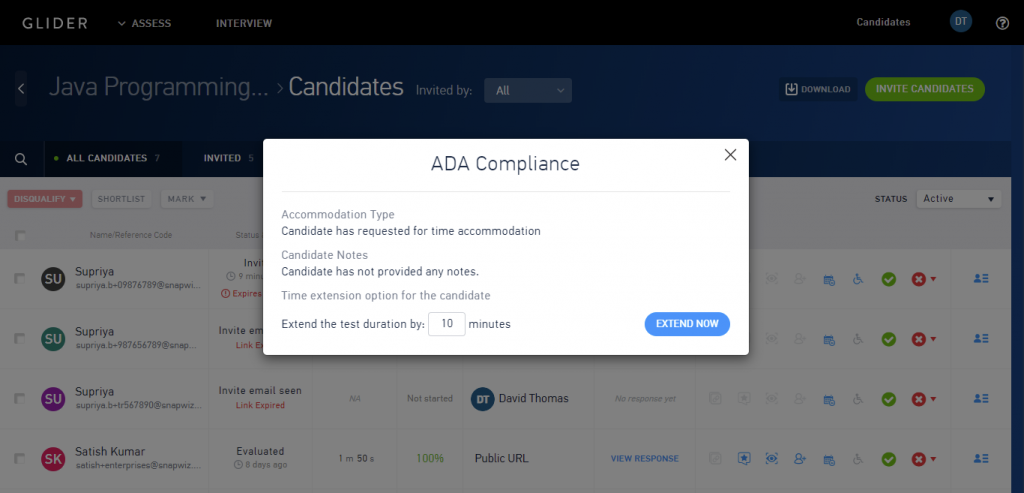 Any qualified candidate or employee with a physical or mental disability (impairment or medical condition) can choose not to disclose their disability status. Just like with the EEO compliance, completing this form is entirely optional. However, it is definitely wise.
Glider will keep any disclosed information completely confidential but disclosing it will help people with a disability to easier and better perform at their job.
SOC 2 Compliance
The SOC (Service Organization Control) 2 Compliance is part of the AICPA's (American Institute of Certified Public Accountants) reporting platform.
It is a framework that requires organizations to establish and follow strict information security policies and procedures to protect customer data. This includes security, availability, processing, integrity, and confidentiality of customer data.
To comply with the SOC 2 requirements, a company must have proper security policies and procedures in place to keep all customer data safe and secure. To ensure the proper level of data and privacy protection, a SOC 2 compliant company must conduct technical audits regularly.
The AI-driven Glider platform fully complies with all the SOC 2 requirements. It conducts technical audits regularly to ensure the user data always remains safe and secure.
Data privacy is undeniably one of the most vital factors to consider in today's tech world, and Glider is very considerate about it.
Some job candidates may not be comfortable with disclosing their personal information via an online platform. Employers and recruiters might share the same concern. However, since Glider ensures SOC 2 compliance, they don't need to worry about the security of their private data.
Data Privacy Consent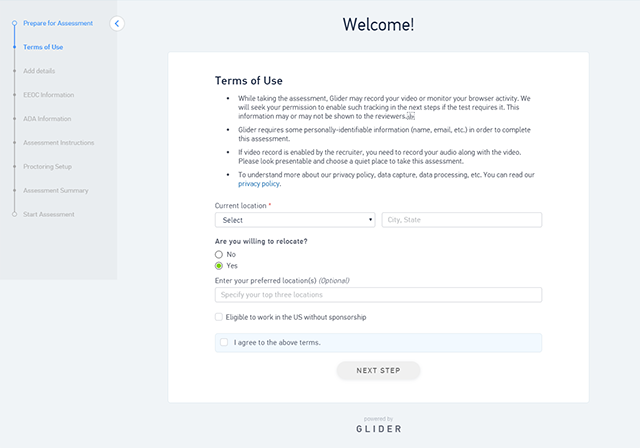 Glider includes another feature concerning data privacy. It helps recruiters prevent fraudulent submissions from job candidates. It achieves this by monitoring the activity of candidates during their assessments.
To do this, Glider needs to access the candidates' webcams and screens. However, it doesn't do it by default. Each candidate must first give Glider permission to access their webcam. They also need to choose to share their screens with the platform.
Therefore, they need to authorize Glider to access their systems for the platform to monitor their activity during assessments. Glider cannot do it without their previous consent.
GDPR Compliance
Glider gives complete control to users over their personal data. Glider seeks the permission of its users in cases where there is a need to capture personal information and the data is stored in accordance with the applicable laws. Additional details are available in the privacy policy.
Meet All Your Compliance Needs with Glider
With Glider, you don't ever have to worry about not being compliant with the major industry standards. Your recruiters can do their job much more easily and effectively, making sure that every new hire is truly qualified for the job, regardless of their gender, race, ethnicity, or disability status.
Not only will you stay compliant with the laws, but you will also be able to hire top talent. This is simply because there will be no room for any kind of bias during the hiring process.
With qualified employees, your organization will definitely thrive. And since there will be no employee discrimination whatsoever, your workplace will become a much happier and more productive place.
Furthermore, Glider will help you keep all your candidate and employee data perfectly safe and secure. The platform follows strict policies and procedures for keeping user data safe and confidential, so no one outside your company ever gets their hands on it.
Apart from these necessary compliances, Glider enables seamless integrations with various tools. It has an Open API that enables your recruiters to continue working on various tools they already use without leaving the Glider platform. Think of it as a centralized hub where your recruiters can track job applicants, invite candidates, and view all their scores.
If you're interested in giving Glider a try, don't hesitate to get in touch. You can contact us via email at info@glider.ai or give us a call at +1 (510) 736-4543. We will be more than happy to answer any questions you may have.
You can also request a Glider demo to get the real feel of the platform and decide whether you would like to sign up. Contact us today and let us help you build a powerful team!