What's the most popular industry for the younger generation of candidates? According to Gen Z, it's getting a job in finance based on research conducted by the CFA Institute. According to the report, finance has grown in popularity, moving from the #5 position in 2021 to the top spot in 2023, beating healthcare and tech. The surge in popularity is a boon for finance recruitment professionals, but it also highlights new opportunities and challenges.
Why does Gen Z want to work in the finance industry?
Perhaps two big market factors have contributed to finance claiming the number one spot:
Pandemic woes have naturally had a significant impact on the healthcare industry, especially with employee burnout.
The lure of high-paying jobs in the tech industry has been dampened by over hiring and mass layoffs by the tech giants in 2023, upwards of 200,000 jobs.
Historically, finance has always been a popular choice for job hunters. While finance is not immune to market challenges, the perception of how the industry mitigated recent challenges is seen positively among Gen Z.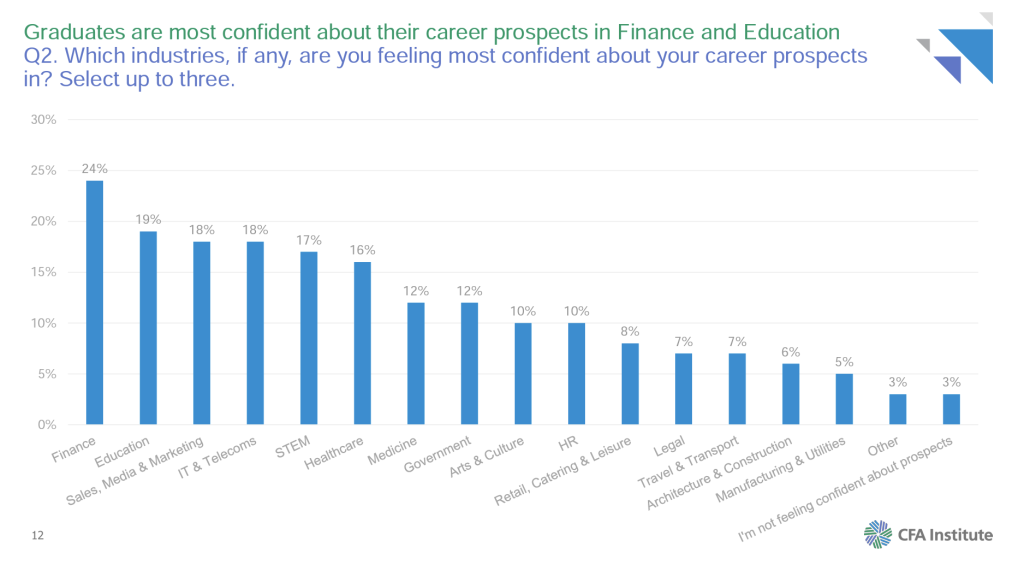 According to the CFA report, owners of finance recruitment now have a competitive edge when looking for new talent:
One-quarter of graduates consider finance the top career sector –up from #5 in 2021
Finance is considered the most stable career post-pandemic, followed by STEM
Finance is one of the top degrees seen as valuable in finding a career
Finance firms are competing for the same talent
While finance has the edge with Gen Z compared to other industries, the competition between finance firms is high. CNBC reported that companies like JPMorgan Chase and Fidelity Investments are increasing their visibility with college students through more online job fairs and on-campus recruiting.
Handshake, a career site for college students, has reported increased job submissions for finance roles. For example, JP Morgan Chase received over 8,000 applications alone on Handshake from tech majors since the start of 2023, a 74% increase compared to 2022.

Who's hiring, and for what roles?
Glider AI ran a query on LinkedIn jobs, looking at all the open positions across the largest financial institutions in the US. What does the data tell us?
LinkedIn data reports 56,478 open jobs at the largest US-based financial firms.
Despite the high value placed on remote and flexible work with Gen Z candidates, 81% of the jobs listed require on-site work.
Unsurprisingly, tech accounted for most open roles at 21,197, finance and accounting at 19,203, and sales-related jobs at 17,793 across all the banks included in the research.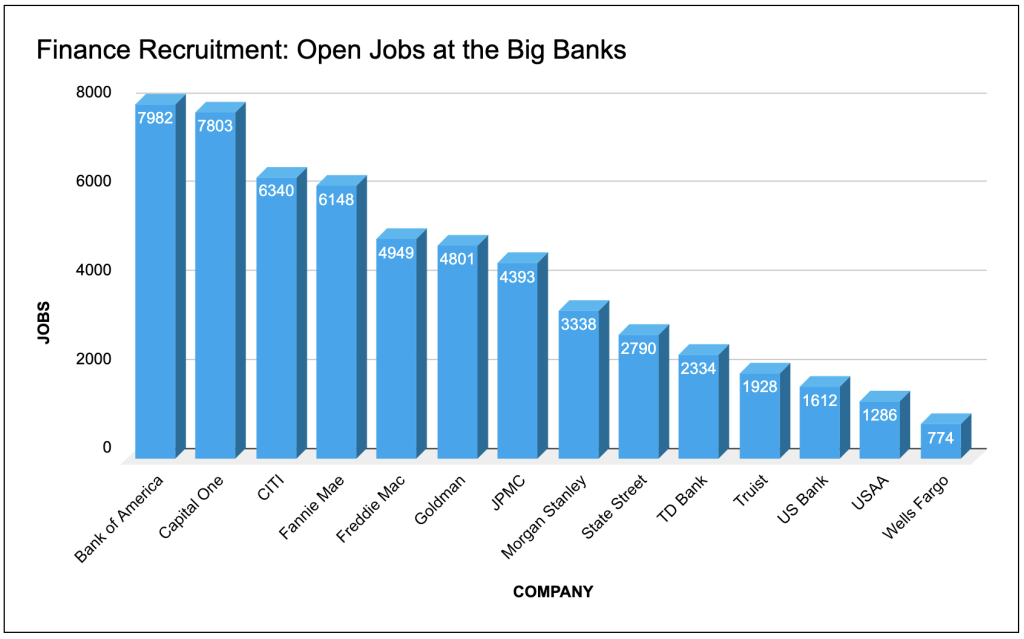 New challenges facing recruiters at finance firms?
Systemic L&D issues create a large skills gap. With so many open jobs, the LinkedIn data shows a significant need for highly skilled talent from tech to sales. While addressing the skills gap through hiring is one strategy, investment in learning and development needs to catch up with the evolving skills needs of the sector, according to research by UK finance.
Candidate fraud is still an issue. Many organizations saw an increase in candidate fraud with the onset of the pandemic and the growth of remote hiring. Naturally, hiring in finance requires a higher level of scrutiny. Working with Pontoon and Glider AI, a large multinational financial institution, prevented candidate by 77%.

What's next for finance recruitment?
The heightened popularity of a career in finance among Gen Z doesn't make the job for recruiters focused on the finance industry any easier. The jobs data shows fierce competition for highly skilled candidates with high integrity only growing. So what are the successful finance firms doing?
Skills-based hiring: leveraging skills assessments to validate candidate competency, fit, and integrity.
AI recruiting: using AI to help screen and create a better candidate experience.
Skills development: offering learning and development opportunities through upskilling and reskilling.