One-way video interview during the recent pandemic is a good thing, believe it or not. Quite a lot of job interviews can be given from the comfort of your own home. What are the post-Covid recruitment strategies? Let's take a look.
The benefits of Remote or Live Video Interviews are plentiful. Although you may feel that nothing can substitute a firm handshake, a one-way video interview provides many perks to both employers and candidates, making them better than a face-to-face interview, especially regarding skill-based interviews. According to a survey report, hiring managers are using one-way video interviews by more than 159% year over year!
It's the 21st century, and everything has gone virtual. Remote interview is not excluded from this pattern. With online platforms like Glider, you can find the best candidates to fulfill any role. This process is done through a myriad of complex assessments based on real-world tasks, combined with powerful AI software.
The Benefits of One-way Video Interview
Since interviews have gone virtual, it's completely normal to ask what a recruiter does and how a candidate should submit the one-way video interview . Don't worry, we have got you. Let's look at both sides:
Saves a Lot of Time
For recruiters, the potential of a one-way video interview is great. You don't have to spend all of your time in the office, waiting for candidates and interviewing them personally.
Going to the interview itself can be a harrowing task for the candidates too, and it's basically annulled by video interviews. Since the interview is being conducted through a webcam, the travel time is virtually nonexistent.
Candidate Pro Tip
While video interviews can save you a lot of travel time, it's always a good thing to prepare for the interview. Acing video interviews during the pandemic is one of the best investments you can make.
Maximum Optimal Accessibility
Another benefit of video interviews is that they're the most accessible form of an interview. When you conduct one through a powerful platform, you can then record it and view it later.
Overviewing the interview on your own time is a great way to get a better picture of a candidate. You're no longer bound to first impressions. Looking at the interview at a later date will give you subtle hints that you might have missed.
Candidate Pro Tip
Keep in mind that your one-way video interview is likely going to be recorded. With this knowledge, you should do your best to eliminate any subtle hints that might impact your chances of getting that new job. Never forget to prepare for questions about Covid pandemic. Always think two steps ahead!
Better Employee Reliability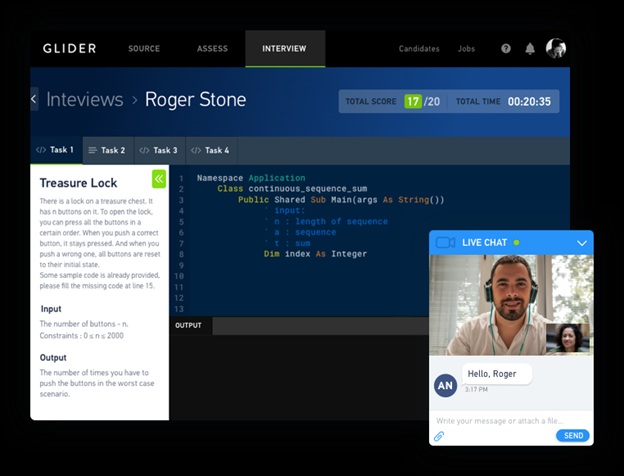 With state-of-the-art software, your interview can make Interactive assessments, auto-scored coding tasks, and video questions to ensure that your potential new employee can perform on the job. You can also ask a few questions about pandemics too.
Glider standardized one-way video interview helps the recruiters create a unique scenario, and constantly overview the candidate's answers at any time. This will lead to better assessment, and allow the employer to make more informed decisions. The virtual interview will allow employers to review a complete audit trail, which covers important data, such as skill reports.
Candidate Pro Tip
Do you know how to impress in a virtual interview? Always be honest with your skills. When you're at the receiving end of a video interview, you should always paint yourself in the best light possible, but you should also leave something to the imagination. Make your employer think about you, your skills, and what you can bring to the table. Tips for one-way video interview may help you a lot.
In Conclusion
In the words of Matthew Jeffery, "Recruitment is marketing. If you're a recruiter nowadays and you don't see yourself as a marketer, you're in the wrong profession."
We couldn't agree more! Recruiters can make the best out of the digital mode of interviews. Glider offers a myriad of interview options for employers and helps them see if the candidate can close a sale and watch your interview recordings. If you keep all this in mind, you'll have the one-way video interview of a lifetime!